Mention America's fifteenth state and many will conjure up images of horse racing, bourbon distilleries and college basketball.  But did you know that before the first thoroughbreds competed at Churchill Downs and prior to Colonel Sanders' secret recipe, the Commonwealth of Kentucky was the Union's third largest producer of wine grapes?  Or how about the fact that the America's first commercial vineyard and winery was founded in the Bluegrass State?  That's right—before there was Kentucky Bourbon or Kentucky Rain—there was Kentucky Wine.
The story begins in 1798 when a Swiss immigrant named Jean-Jacques Dufour traveled across the newly minted nation in hopes of finding the perfect place to cultivate wine.  Stumbling upon what is now Jessamine County on the banks of the Kentucky River, he decided to make this the spot of America's first commercial vineyard, the aptly named "First vineyard."  Raising the necessary capital by selling shares of the Kentucky Vineyard Society, a stock company he helped to create, Dufour used the funds to buy more than 600 acres of land and 10,000 vines of over thirty different varieties.  At first, the experiment looked promising with a few bottles even making it into Thomas Jefferson's wine cellar at Monticello.  However, as most of America's first vignerons quickly learned, growing Vitis vinifera grapes in the New World was next to impossible during the early 1800s.  And with black rot, Pierce's disease and phylloxera plaguing the area, Dufour decided to call it quits and head towards the more fertile Indiana territory.  This, however, didn't mean the end of Kentucky wine–in fact, it was only the beginning.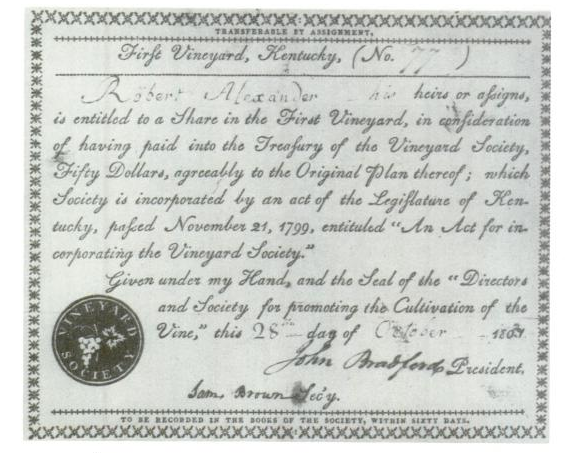 Above: A share in "First Vineyard" issued by the Kentucky Vineyard Society, dated 1799.
Another American wine pioneer that would influence the surrounding region was Nicholas Longworth, a banker and aspiring winemaker living in the border city of Cincinnati.  Following many years of trial and error in the Ohio Valley, he would finally hit the jackpot by growing Catawba grapes, a hybrid of European rootstocks and American Vitis labrusca.  And after accidentally fermenting these musky grapes for a second time, the result was a sparkling libation that transformed the Buckeye State into the largest producer of wine in the United States by 1859.  Of course, this success would soon spill over the Ohio River into Northern Kentucky, which shared a similar climate and geology.  In 1840, the Bluegrass State produced just 2,209 gallons of wine.  Twenty years later, that figure jumped to 136,000 gallons.
Unfortunately over the next hundred years, various diseases, a Civil War and ultimately prohibition would decimate Kentucky's wine industry as farmers switched over to growing tobacco.  But with that industry now in decline, a winemaking resurgence has taken place over the last few decades.  One vital factor in its comeback has been the state government in Frankfort, which agreed to finance half the startup costs for any new vineyard.   From 1998 to 2002, the grape acreage in the Commonwealth quadrupled with Cabernet Sauvignon, Cabernet Franc and Chardonnay accounting for much of this phenomenal growth.  Moving away from native/hybrid grapes such as Vidal Blanc and Chambourcin, today's Kentucky vintners seem to share the same pioneering spirit growing vinifera varieties as their ancestors did more than 200 years ago.
Encompassing part of the Ohio River Valley AVA, the Bluegrass State currently has 65 wineries on over 600 acres producing more than 100,000 cases per year.   "The industry is growing by leaps and bounds," according to Tyler Madison of the Kentucky Department of Agriculture. "It's an exciting time to be a part of Kentucky wine because it's all still so new."  One way to learn more about the state's best vintages is to check out the winners from the annual Kentucky Commonwealth Commercial Wine Competition and Commissioner's Cup.  And the next time you're traveling anywhere from Bowling Green to Lexington, sample some wines from an industry that dates back to the time of Jefferson and is destined for a breakout moment in the twenty-first century.
Sources:
Kentucky's wine industry: Rich in history, richer in flavor. Go to Louisville. Retrieved from http://www.gotolouisville.com
Fauchald, Nick. (2004, June 28). The Father of American Sparkling Wine. Wine Spectator. Retrieved from http://www.winespectator.com
Loria, Keith. Kentucky Commissioner's Cup Runneth Over. Farm Flavor. Retrieved from http://www.farmflavor.com
Pinney, Thomas. A History of Wine in America from the Beginnings to Prohibition. Berkeley: University of California Press, 1989.
Tenkotte, Paul and Claypool, James. The Encyclopedia of Northern Kentucky. Lexington: The University Press of Kentucky, 2009.
---
You might also like:

Loading ...