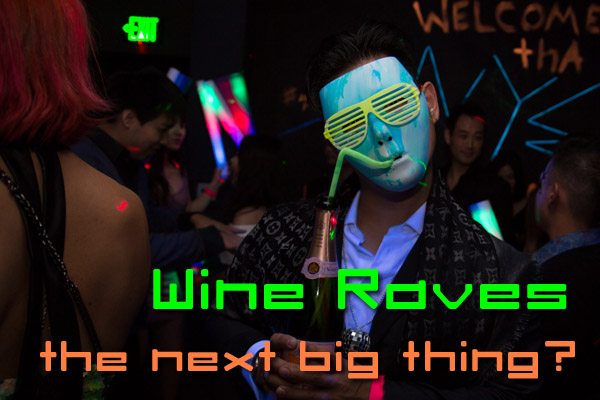 (Photo: wineravela.com)
By Joseph Temple
Do you know someone who enjoys wine but is too overwhelmed by all the terminology and formalities to attend a formal tasting?  For many, especially Millennials who are just starting to appreciate wine, it can be a daunting task trying to figure out what "a mineral-driven, plummy finish" actually means.  And is there really a difference between a score of 96 points versus a score of 97?  "Wine is intimidating," writes Alison Stevenson for Munchies.  "I don't want my alcohol to feel like a homework assignment."
But what if people could sample different vintages in a more casual environment where no one has to worry about their knowledge – or lack of knowledge – on the subject?
Welcome to the world of wine raves – quite possibly the next big thing.
With vino cocktails that glow in the dark and a DJ providing the evening's soundtrack, these raves are the complete antithesis to the traditional notion of tasting wine on a white tablecloth with a spittoon.  Of course, that's exactly what the organizers of these events are aiming for.  "We're talking about wine too seriously," said Maxwell Leer, a rave promoter.  "We want to make people feel more comfortable with it."
Footage from an outdoor wine rave in Europe
Since 2011 when the first American wine rave debuted in San Diego, these gatherings have grown in size and are now starting to attract mainstream publicity.  And a big plus is the price, which is very reasonable by L.A. standards.  "For $30, I could have received bottle service; a full bottle of a Wine Rave cocktail.  That is the most affordable bottle service in existence, I think," writes Stevenson who recently attended a rave in Los Angeles.
Sipping different vintages from shot glasses usually reserved for B-52s and Kamikazes while dancing to the sounds of Lady Gaga and 2Pac, traditionalists would probably scoff at these types of events for various reasons.  If anybody is smoking and/or wearing cologne or perfume at this rave, it becomes extremely difficult to smell the wine – a key factor in judging its merits.  Additionally, with fluorescent lighting and swirling glow sticks as the backdrop, determining the wine's color is next to impossible.
All of that of course doesn't matter to the partiers in attendance.  They are enjoying wine in a relaxed and fun setting where all the stereotypes associated with the culture get checked at the door.   An important bridge has been created at these raves, connecting the novice drinker who is curious about wine with experienced oenophiles, who under normal circumstances probably wouldn't have ever crossed paths.  Barriers created by scorecards and terms like terroir and bouquet have been removed.  In the end, that's all that matters to these wine drinkers.
"Wine can be a conversation or it can just be a drink," says Lear.  "In which case, just drink it."
---
You might also like:

Loading ...