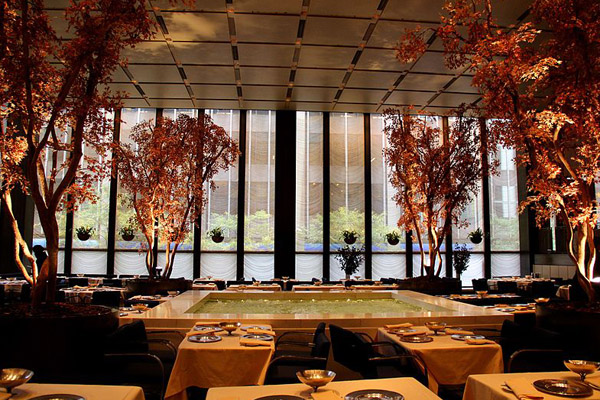 By Mwatt510 (Own work) [CC BY-SA 4.0], via Wikimedia Commons
By Joseph Temple
On a 2010 episode of AMC's Mad Men, the cash-strapped agency of Sterling Cooper Draper Pryce is looking to scale down their annual Christmas party.  But with Lucky Strike's head honcho in New York City for the holidays, a decision whether to spare no expense for his arrival is fiercely debated by two of the agency's partners.
"Take him to the Four Seasons," says Lane Pryce as an alternative to a costly office party.  "He can have three entrées."
Not a bad choice at all!  That's because if you were visiting the Big Apple in 1964, there was no better place to dine at than the Four Seasons.  Located at 99 East 52nd Street inside the Seagram Building, this restaurant became a must-visit destination for anyone staying in Manhattan.  Opening its doors for the first time in October of 1959, authors John Mariani and Alex von Bidder wrote: "it was a restaurant that signaled the increasing appreciation on the part of New Yorkers –and Americans in general—of the pleasures and importance of dining out."
Walking through the lobby into the Four Seasons, there were two choices for you to experience.  You could turn right and dine underneath a fashionable art installation of hundreds of bronze tubes while admiring the art of Picasso in the famous Grill Room.  Also known as the Bar Room, it was here where the term "power lunch" was popularized as the Don Drapers and Roger Sterlings of that era sipped Martinis and ate stone crabs flown in from Miami.
But if you decided to turn left, a white Carrara marble pool surrounded by four grandiose trees proved to be the ultimate centerpiece for those dining in what became known as the Pool Room.  With a menu and décor that changed with each season, opulent dishes such as Iceland herring, New England lobster tartlet, and smoked goose were just some of the choices you had at this fine-dining establishment.
And with all the celebrities and power brokers who ate there in the 1960s, the most prominent guest was President John F. Kennedy.  On May 19th, 1962, JFK would enjoy quintessential continental style cuisine: crabmeat baked in seashells followed by medallions of beef glazed in Madeira.  Incidentally, after leaving the Four Seasons that night, the commander-in-chief would be serenaded by Marilyn Monroe at Madison Square Garden with her infamous rendition of "Happy Birthday, Mr. President."
During a time when men always wore jackets and ties whenever they dined out, the Four Seasons became a culinary institution with its numerous groundbreaking innovations.   Reflecting years later, New York Times restaurant critic Frank Bruni writes,
"When I was in college and he [Bruni's father] wanted me to experience a truly grown-up restaurant, steeped not just in fancy food but in a sweeping sense of the big money to be made and spent in this city, the Four Seasons was where we went, our ties properly cinched, our shoes freshly polished. He shook hands and traded compliments with important-looking men in expensive-looking suits. I took my first bite of roasted duck and woke up to a world of indulgence just waiting to be devoured."
Sources:
The Four Seasons: a history of America's premier restaurant by John Mariani and Alex von Bidder
Classic Dining: discovering America's finest mid-century restaurants by Peter Moruzzi
---
You might also like:

Loading ...