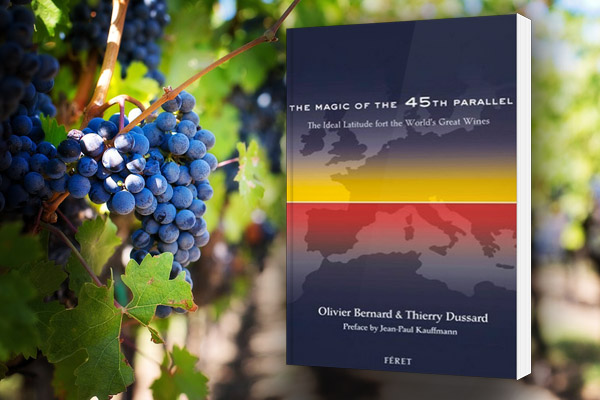 I am a long time big fan of Olivier Bernard the owner of Domaine de Chevalier, Grand Cru Classe de Graves in Bordeaux. Their white is always outstanding in every vintage and the reds recently much more approachable for earlier consumption. Fortunate to have attended many times his "who's who of the wine world" Tour de France dinner on the Monday night each Vinexpo and always amazed by how well their reds from the 1940s and older in grand format have developed so well with cellar age. Olivier is also a keen student of the other quality wines of the world and is an outstanding taster. Since 2012 he also has the responsibility of being President of the Bordeaux Union of Grand Crus. Don't know how he has found the time but now Olivier has co-authored with Thierry Dussard and 26+ other well known "witnesses" a new exciting wine book by Editions Feret in both French & English "The Magic of the 45th Parallel" called the Ideal Latitude for the World's Great Wines.  Check out the site for it here.
Grew up drinking Jaboulet's Cotes du Rhone blend of Grenache & Syrah called Parallele 45 so already knew the significance of that latitude. Also there is a new top winery in the Okanagan, British Columbia named 50th Parallel Estate Winery (www.50thparallel.com) with talented winemaker Grant Stanley to watch out for future pinot noirs. However this book goes further and suggests "A magic band surrounds our planet between the 40th and 50th parallels of the northern hemisphere" with "The 45th latitude, mid-way between the North Pole and the Equator, is the dividing line for wine, most white grapes being grown north of it and red grapes south of it". They raise the question of whether "it is just as applicable to the same latitude in the southern hemisphere?" Highly recommend you check it out!  Your thoughts?
---
You might also like:

Loading ...