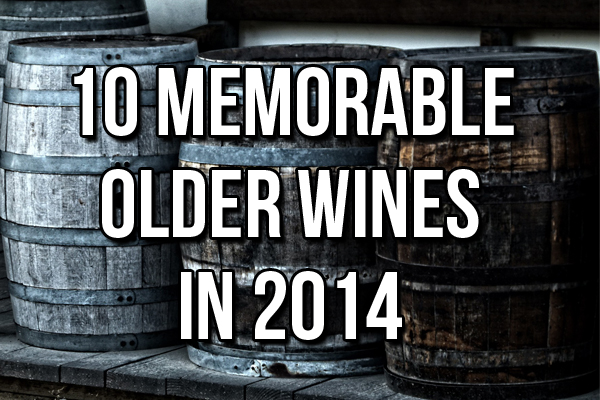 Cherish looking back on so many wonderful food and wine events from 2014. Certainly exciting that there is now so much young delicious fermented grape juice from all regions of the world out there in the marketplace for our earlier enjoyment. However, I still have a soft spot for the extra complexity and joy I get from experiencing a clean authentic more mature bottle of fine wine. Thought I might briefly highlight ten of these treasures that had at least 20 years of bottle age:
1991 CHABLIS LES CLOS FRANCOIS RAVENEAU displayed pure terroir from probably the greatest Grand Cru site in Chablis. Vibrant yet maturely rich. Their 1er cru 2005 Montee de Tonnerre also is excellent and more forwardly but these whites really can age forever.
1974 MAYACAMAS CABERNET SAUVIGNON is a masterpiece of intense old style mountain fruit especially in magnum. Still fresh and young. Other 1974 cabs at 30 years I respected included minty Heitz Martha's Vineyard, classy Mondavi Reserve , solid Caymus, and concentrated Mount Eden Santa Cruz Mountains.
1961 LE CORTON BOUCHARD PERE was a surprise. A better collector vintage in Bordeaux but this really sang mineral bouquet & smooth entry finishing with long pinot noir silk. Great shape at over 50 years for this under rated region for aging the only Grand Cru red in the Cote de Beaune.
1986 CHATEAU GRUAUD LAROSE ST. JULIEN is always outstanding and is still a value. I promoted in the past 1986 Mouton Pauillac but this too shows depth and big cedar fruit still developing.
1986 OKFENER BOCKSTEIN RIESLING AUSLESE BLUE LABEL ST. URBANS-HOF shows this high acid year in the steep Saar slate vineyards (like 2002) but now so fresh, refined smoke with mineral balance at only 8.5 alcohol. Proprietor vintner Nik Weis told me he just had the 1952 which also is still fresh. Their 2002 Eiswein at 6.5 alcohol is also amazing!
1978 HERMITAGE LA CHAPELLE JABOULET is their best vintage together with 1961 and 1990 and shows it on a beautiful plateau of ripe mature blackberry syrah.
1989 BOLLINGER VIEILLES VIGNES FRANCAISES from their pre phylloxera layered low yielding pinot noir vines in Ay is a rare and brilliant Champagne. So delicious even though from a usually softer more forwardly warmer vintage.
1985 CLOS DE TART GRAND CRU is a special plot monopole of Mommessin in Morey St. Denis now showing mature elegant flowers with earthy vibrancy. Like drinking Burgundy from that vintage presently as the Bonnes Mares Louis Jadot also shows outstanding and was the first inclusion of the fruit from the Clair Dau estate they purchased.
1982 CHATEAU LA MISSION HAUT BRION but could have been so many other 1982 Bordeaux all showing so great now when they have been well stored. Cheval Blanc, Mouton, Latour, Lafite, Margaux, Petrus and others like Grand Puy Lacoste are all excellent.
1914 CHATEAU COUTET BARSAC was such a treat to try this Sauternes at 100 years. High fill and supplied directly from the chateau property for an auction to celebrate the millennium showing ethereal bouquet still alive yet with sweet quince prunes and caramel crème brulee. So complex and stays on the palate a really long time. Also enjoyed 1967 & 1928 Chateau d'Yquem among others but a century is truly memorable!
---
You might also like:

Loading ...