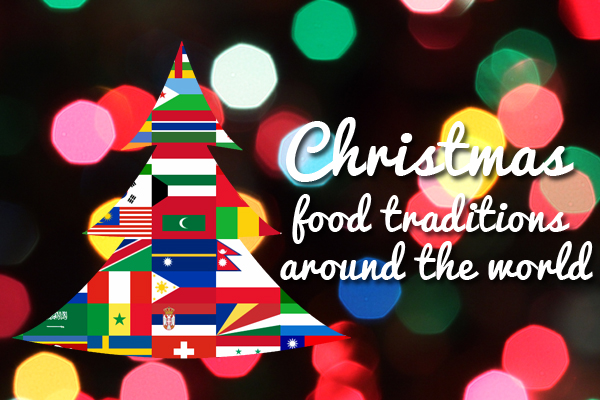 Food traditions celebrating Christmas, Hanukkah, and all the year end festivities around the world are uniquely varied. The IWFS Vancouver Branch for many years at their annual December event specifically focused the meal on only special foods served during this time in different countries including Germany, Netherlands, Italy, England, Denmark, France, Norway and more. Makes for a wonderful educational event. You don't have to go that far but it is fun and worldly to incorporate one foreign country food item into your menu. Maybe something from your own heritage background. Google it to get ideas and recipes but some of my best ones include:
GREECE: Avgolemo Soup with chicken, lemon & egg; Baklava
HUNGARY: Roast Goose or Duck; Beigli poppy seed cake
NETHERLANDS: Spicy Speculaas Cookies with ginger & cinnamon
MEXICO: Spicy tamales
AUSTRIA: Sachertorte, Linzertorte
NEW ZEALAND: Pavlova
FRANCE: Oysters, Foie Gras, Smoked Salmon, Scallops – Coquilles St. Jacques
GERMANY:  Stollen and the most intricate Christmas cookies, Gluhwein,
ITALY: Panforte honey fruitcake, Panettone
ARGENTINA: Empanadas, Asado meats
CHILE: Pan de Pascua sponge cake with cloves & candied fruits
CANADA: Spiced nuts, gingerbread house, shortbreads, cranberry sauce, tourtiere meat pies, Nanaimo bars
CZECH: Fish or pea soup, Potato salad
PUERTO RICO: Pasteles savoury cakes in banana leaves
AUSTRALIA: Usually the hot summer holidays so now cold Christmas dishes work nearly as well as the Barbie
DENMARK: Roast pork & crackling, Glogg mulled red wine with spices
PORTUGAL: Bacalhau cod
SPAIN: Jamon dry cured ham
SWEDEN: Gravad Lax salmon dill, Meatballs
UK: Roast turkey, stuffing, Brussels sprouts, pudding, mince pies
USA: Roast ham after recent November Thanksgiving turkey & regional specialities
My lovely wife Joan has a Norwegian background so we usually include one item from there in our celebrations. For some years it was their traditional Lutefisk of fish preserved in lye. We thankfully gave that one up but now every year we love making their delicious Lefse – a Norwegian potato flat bread and Kransekake – almond ring cake.  Find your own outstanding treat and let us all know what it is. Merry Christmas.
---
You might also like:

Loading ...