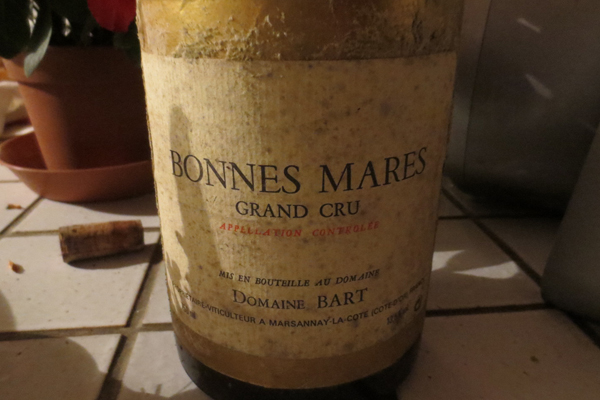 By Arnaud 25 (Own work) [CC BY-SA 3.0], via Wikimedia Commons
A small tasting dinner last week focused on 9 different vintages from the unique Grand Cru Burgundy of Bonnes-Mares. We enjoyed comparing 2003 & 2002 from Dominique Laurent, 2001 & 1996 from Domaine de Comte Georges de Vogue, 1989 & 1985 from Louis Jadot, 2000 Nicolas Potel, 1993 Jacques Frederick Mugnier, and 1990 Moillard. I attended carrying the expectation baggage that the wines would likely be tannic, rather masculine and with slight differences showing from the Chambolle and Morey-St. Denis parcels. I left with the focused reminder that vintage truly matters and that these wines develop much more complexity with age. The 2002 Laurent showed depth and structure with now better oak integration then earlier but still needing further cellaring. The de Vogue pair both showed the Domaine's usual lovely dry elegance but 2001 though classy was quite light and 1996 was too earthy. The clear winner was the 1985 Jadot (the first time they included these grapes from their Domaine Clair Dau purchase) which displayed an amazing silky smooth texture with power yet all in balance. If this had been served to you blind you might have thought it was Le Musigny. A very memorable bottle.
This all brought back fond memories of probably the most extensive Bonnes-Mares vs. Le Musigny comparison (all from Comte de Vogue) held by the generous knowledgeable Tawfiq Khoury for the KPBS charity auction in San Diego on October 24, 1984. We compared many years from 1979 back to 1934 in pairs making it easier to understand the very subtle distinctions between Musigny's more harmonious elegant bouquet with pure intense silky fruit and Bonnes-Mares masculine firmer round full but more tannic character. The group preferences were all for Musigny Vieilles Vignes from the best vintages 1971, 1949 (Michael Broadbent's "peacock's tail" choice ), 1945 (magnum), 1937, and 1934. However the 1976 Bonnes-Mares at only 8 years old showed well knit young tannins with lovely fruit full of potential. Probably drinking well now. The message here is that Bonnes-Mares is also a great wine but needs best vintage conditions to show off its best fruit terroir and some bottle age to really develop that bouquet and velvety texture. It shows better on its own too rather than comparing it with its more expensive neighbour. Hope you have bought a few bottles of Bonnes-Mares from a top producer from 2005, 2009 and 2010 for your cellar and as a future treat for a special occasion!
Have you tried an exquisite pinot noir from Bonnes-Mares or Le Musigny?
---
You might also like:

Loading ...