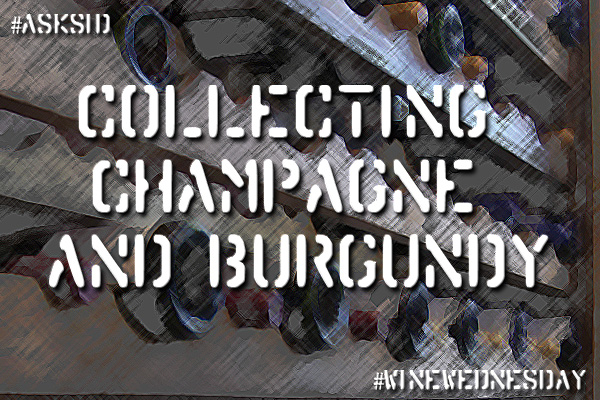 By Alpha (originally posted to Flickr as Wine – Bistro Vue) [CC BY-SA 2.0], via Wikimedia Commons
Question: I started a wine cellar last year and having fun adding to it. Getting conflicting advice on whether to buy smaller grower Champagnes and Burgundies or the more well-known brands. Your thoughts?
Answer: Collect both. It is trendy to support the underdog farmer in both Champagne & Burgundy and there are some outstanding wines being made. However they are rarer and more difficult to obtain because of their small production with distribution issues. The bigger firms and the negociant wines are usually easier to find at retail.  Don't be a snob. Dom Perignon produces a lot of bottles (the number is secret) but still makes stunning Champagne from high yields in 2004 or for laying down in your cellar like the delicious drinking 1990. Pol Roger 1990 or 1996 are other good examples. Remember too that Grower Champagnes usually don't have much quantity of reserve wines to add to their non-vintage blends compared to the bigger houses. Similarly in Burgundy the unique vineyard site and the vintage year can be as crucial as the producer. Meursault Perrieres 2010 is a great buy for your cellar whether from Viticulteur Domaine Roulot or the large firm Bouchard Pere. Keep in mind that currently many producers both small and big are focused on quality in their decision making and motivated to make a fine wine. Be open minded in your search for collectable bottles.
---
You might also like:


Loading ...