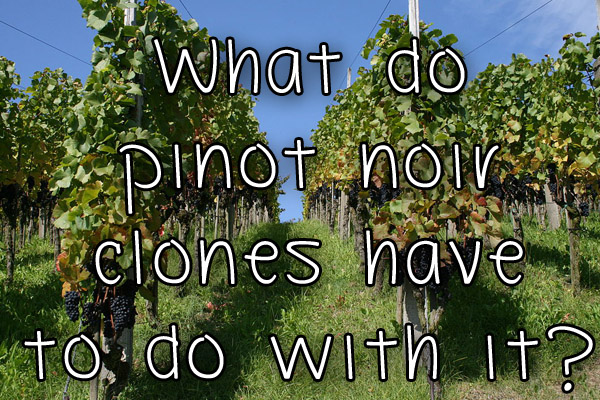 By Badener (Own work) [CC BY 3.0], via Wikimedia Commons
Informative wine tasting of Hahn Family Wines with winemaker Paul Clifton and Vice President, International Sales Evelyn Pool. Tried 3 different Hahn pinot noirs: their softer 2013 California, the more elegant Santa Lucia Highlands 2012 SLH Estate vineyard blend, and the single vineyard complex 2011 Lucienne "Lone Oak". Clones of pinot noir are a hot topic today and their influence on the "layers of aromas, flavors and textures." of the wine. I raised a discussion at the tasting about the influence of the different clones of pinot noir in their vineyards on their resulting wines. Evelyn immediately produced an excellent circular chart listing different pinot noir Dijon & Heritage clones ("slight genetic variations") stating "The Hahn SLH Pinot Noir in part owes its seductive character to clonal selection."  The chart is a brilliant attempt – the first I have seen -to describe the characteristics of 16 pinot noir clones indicating "each of these clones can contribute a desired color, flavor, texture or structural element" to the final wine.
With many thanks for this brilliant informative marketing initiative by Hahn in helping us better understand pinot noir here they are:
113:          Very elegant with lighter structure & deep color
114:          Adds classic flavors of dark stone fruits and spice
115:          Adds aromas of black cherry, anise, leather & rose
667:         Softly tannic; adds raspberry, strawberry, spice
777:          Intense; adds black fruit, leather, tobacco, earth
828:         Fruit forward; adds blackberry & plum
943:         Adds intense strawberry aromas
2A:          Fruity with rose petal aromatics; adds berry & cherry
Calera:    Adds juicy minerality & acidic verve
Jackson 16:  Bright & fruity with moderate richness
Jackson 9:   Beautiful aromatics; moderate weight
Jardini:        Earthy with truffle & ripe plum
Mount Eden: Very dark & rich, adds deep tones
Pommard 4:   Meaty & gamey with bright cherry fruit
Pommard 5:   Vibrant, adds ripe plum & velvety finish
Swan:               Beautiful bright fruit; adds balanced richness
Is it easier for you to differentiate the clonal selection used or the specific terroir site where the grapes are grown? What characteristics of pinot noir wines do you most enjoy?
---
You might also like:

Loading ...