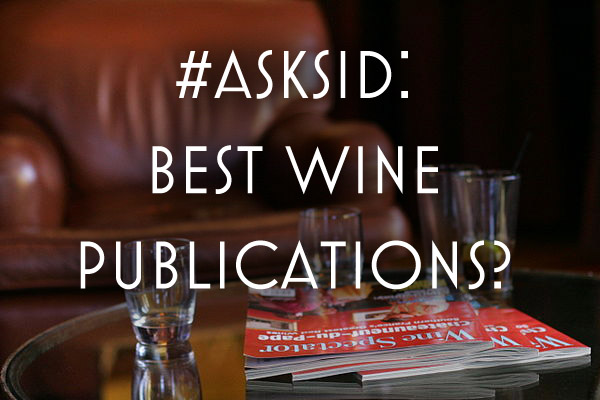 By kerinin [CC BY-SA 2.0], via Wikimedia Commons
Question: I am into the detailed study of fine wine the last few years but I am not yet an expert. Would appreciate your recommendations on subscribing to the best current wine publications to expand my knowledge.
Answer: Congratulations. A fascinating lifetime pursuit where you will discover the more you learn about wine the more you realize that there is so much you still don't know. In the old days publications were quite limited including Andre Simon, Harry Waugh, Alexis Lichine, and Robert Finigan's Private Guide to Wines. Along came the icons of Wine Spectator, Decanter and Robert M. Parker's Wine Advocate all still influential and informative. Check out Wine Enthusiast, Wine & Spirits and James Suckling too. Don't forget the many excellent general reference books out there from Hugh Johnson to Jancis Robinson. You undoubtedly will focus on many different wine regions and now there seems to be an authoritative new book for every specific wine region. John Schreiner has some thoroughly researched books on the emerging BC Canada wine scene. For example, my latest book purchase is focused only on Barolo and Barbaresco by Kerin O'Keefe. There are many specialty guides out there including many on the internet – free and by subscription. Recommend The World of Fine Wine published 4 times a year, Allan Meadow's Burghound on Burgundy and knowledgeable John Tilson's free www.undergroundwineletter.com. Your question is very topical because this week brought the announcement that Vinous Media (Antonio Galloni) has just acquired the wine journal of Stephen Tanzer's International Wine Cellar (including critics Tanzer, Josh Raynolds, Ian D'Agata and Joel Payne). Check out the newest hottest publication out there: www.VinousMedia.com.
---
You might also like:


Loading ...