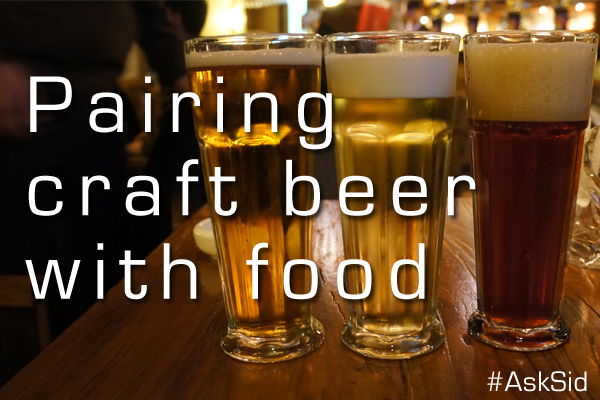 Uri Tours (uritours.com) [CC BY-SA 2.0], via Wikimedia Commons
Question:  What are your thoughts Sid on pairing craft beer with food?
Answer: Just go with the potato chips and beer nuts. Just kidding! Craft beers are a strong market and often the beverage of choice particularly with the younger crowd. Having a beer seems to be a more casual relaxed and less intimidating activity for them than the more formal wine service. Small independent traditional microbreweries continue to explore different experimental brews so there is always a brand new one to try. Craft beers are very diverse from dry to sweet and subtle to assertive – just like wine. Certainly quality craft beers can work very well with different foods – especially where you want to refresh your palate with a gulp. Wine is more suited to sipping and consuming less liquid volume but this is only a generalization. Some craft beers now are nearly the same alcohol as wine and in the same 750 ml size bottle. Be open minded and experiment yourself as to how you enjoy craft beers with food. There is a lot to learn.
Also check out the dinner party fare served with beer at www.brooklynbrewery.com/blog.
I participated with their Brew Master Garrett Oliver in a competition where chefs prepared the same food for both beer and wine pairings. The large audience vote was for beer but many of the dishes were quite hot spicy and BBQ styled. Tomorrow they are matching beer with sustainable seafood including oysters. I already know that I prefer top Chablis with that matching!
---
You might also like:


Loading ...