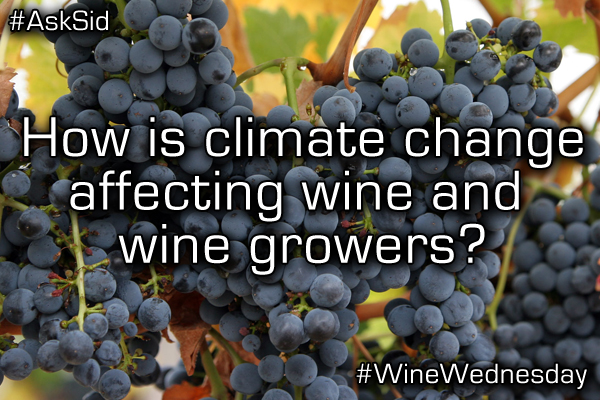 fir0002 | flagstaffotos.com.au [GFDL 1.2], via Wikimedia Commons
Question: How is climate change affecting wine and wine growers?
Answer: Big important question with not enough space to fully answer here. Certainly there seems to be more weather extremes in wine growing regions than ever before. California used to be almost perfect with their late October picking in Napa in the early years like those successful 1974. Now a shorter hang time usually is necessitated by the higher temperatures. There are similar issues in other hotter regions including Australia, South Africa, South America etc. Alcohol levels usually go up with riper fruit. Even in cooler Piedmont especially in Barbaresco the best sites were generally considered to be south facing (Montestefano, Montefico) in order to ripen the grapes but now many growers feel the south east or even south west sites (Asili, Rabaja, Ovello) are preferred in hotter vintages. Naturally frozen grapes for ice wine is becoming more difficult to depend on every year with global warming. The 2003 European heat wave affected Bordeaux which now is looking for more heat-resistant vine stocks and are reluctant to replant the Merlot variety on gravelly sites when it is so much better on clay when the weather is hot. Burgundy is suffering with reduced crops from inopportune hail storms in recent years. Everywhere elevation of vineyards (Mendoza in Argentina) and acidity are back in vogue (Chablis) as are formerly cooler regions (Okanagan in Canada, Tasmania in Australia & Bio-Bio in Chile). Good article last year in The Guardian on how climate change will threaten wine production areas suggesting global warming will make it difficult to raise grapes in traditional wine country, but will shift production to other regions: See http://www.theguardian.com/environment/2013/apr/08/climate-change-wine-production
---
You might also like:


Loading ...