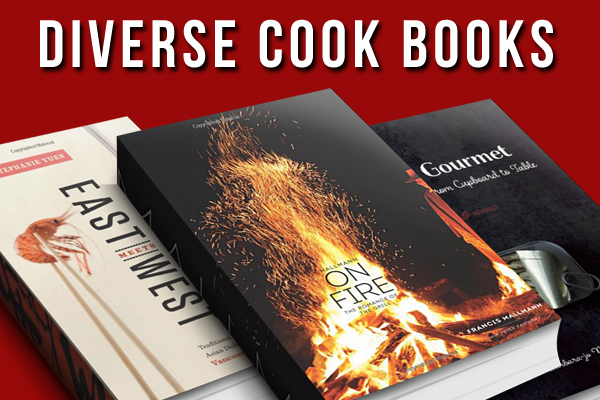 I continue to enjoy reading and trying recipes from 5 diverse outstanding cook books:
1. ELEVEN MADISON PARK THE COOKBOOK is an ambitious tome by talented chef Daniel Humm & GM Will Guidara of probably New York's best restaurant. More than 160 upscale recipes "plated as they are served at the restaurant and showcased like works of art in luminescent photographs by Francesco Tonelli" makes a magnificent statement.
2. TIN FISH GOURMET – GOURMET SEAFOOD FROM CUPBOARD TO TABLE by Barbara-jo McIntosh is new and revised from 1998 with a special foreword from Michel Roux. Wonderful casual ideas on how to turn "canned seafood into stylish delicious dishes … not only tinned salmon and tuna but clams, oysters, shrimp, crabmeat, sardines, anchovies, mackerel, and more." Excellent gift for younger people (and older) starting to live on their own with limited prep time for their food.
3. ON FIRE by Francis Mallmann is such an interesting read with recipes that are approachable even without using an open flame. Born in Patagonia but trained in some of France's top restaurants he now prefers the bigger bolder flavours of the grill using open fire parrilla BBQ & cast-iron plancha griddle. Recent amazing demo by him on a busy street in front of CinCin restaurant in Vancouver showing remarkable grilling skills over an open fire makes you understand why his restaurants in Buenos Aires, Mendoza & Uruguay are so popular.
4. EAST MEETS WEST by Stephanie Yuen is full of traditional & contemporary Asian dishes from Vancouver restaurants with 88 signature recipes. It provides great insight into Asian ingredients that are used even if you prefer to let a chef prepare these dishes for you rather than cooking them yourself.
5. A WORK IN PROGRESS – NOMA RECIPES from Copenhagen by Rene Redzepi  is a tribute to "The Unafraid" & "The Unique Creators". Set out on a monthly basis (except no January when on vacation) it includes a helpful base recipe guide plus glossary terms. Actually get 3 books with the main Recipes, his personal insight Journal, and Snap Shots.
---
You might also like:

Loading ...