On one extremely cold night in the city of Boston, viewers tuning into Channel 2 had no idea that they were about to witness a pivotal moment in both the history of television and food.  It was February 11, 1963 and premiering at 8 p.m. on WGBH was a show called The French Chef starring a largely unknown culinary figure named Julia Child.  With her distinctive voice, unbridled enthusiasm and a superb knowledge of gastronomy, the show eventually became a hit throughout the United States.  Before anyone had ever coined the term "celebrity chef," Child was embraced by housewives across the country as they watched her prepare dishes with such exotic names that few Americans could pronounce like Boeuf Bourguignon and Pommes Duchesse.
Airing for ten years on public television, The French Chef inspired a whole generation of foodies who watched an approachable and nonpatronizing host cook superb dishes every single week.  And along with her iconic book, Mastering the Art of French Cooking, Child had successfully created her own unique brand long before the invention of The Food Network.
Below are eight interesting facts you may not know about Child and her groundbreaking show:
---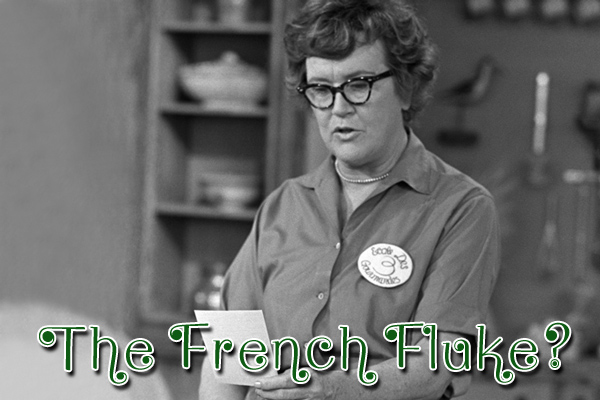 blank
Inside the gym at MIT (Massachusetts Institute of Technology), a weekly book review show called I've Been Reading had been produced on a shoestring budget by WGBH.  Looking for guests to appear on the program, a viewer had called in and suggested that they invite a young promising chef named Julia Child who had just published a new cookbook.
"We don't review cookbooks," was the response of the show's pompous host.
However, one day before the program aired, the author scheduled to appear had cancelled — and so did the backup guest.  Scrambling to find a replacement, the producer reluctantly invited Child, who ended up taking the show by storm with an on-air cooking demonstration.  With the switchboards lighting up, anxious viewers called in to see when she would be back.  Responding to all the positive feedback, executives at WGBH ordered three pilots for a show starring Child devoted entirely to French cooking – a decision that would eventually propel her into the national spotlight.
If it wasn't for a random chain of cancelling guests, Julia Child may have never been discovered as a star.
Source: The Other Face of Public Television: Censoring the American Dream by Roger P. Smith
---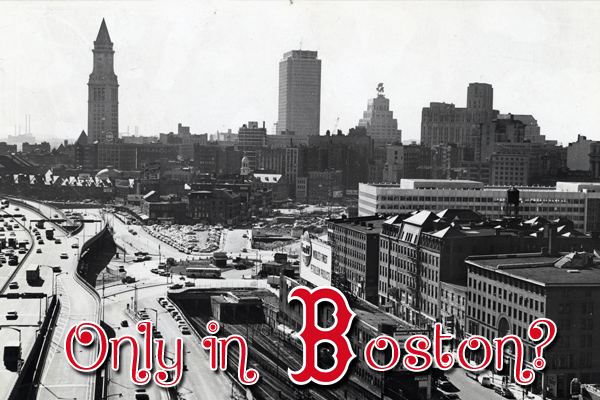 Julia Child was certainly there at the right time – but more importantly – she was also in the right place.  That's because in 1962, many thought that a television series dedicated entirely to French cuisine would have little appeal in the various markets across the country.  "These pilots would not have worked in Bayonne, New Jersey," said one of the show's producer years later.  Watching someone cook up dishes that Middle America thought only the privileged and powerful ate would never take off – except in the city of Boston that is.
Home to the Kennedys and Harvard University, The Cradle of Liberty proved to be the best possible place for Julia Child to launch her career in television.  Biographer Laura Shapiro writes:
"Dozens of colleges and universities, long-standing Brahmin institutions such as the Boston Symphony Orchestra and the Museum of Fine Arts, and an unusually well-educated, well-traveled population made the area unique in the nation.  The founders of WGBH intended the new station to be yet another jewel in the city's cultural crown.  French cooking fit right in; and, as viewers quickly made clear, so did Julia."
Source: Julia Child: A Life by Laura Shapiro
---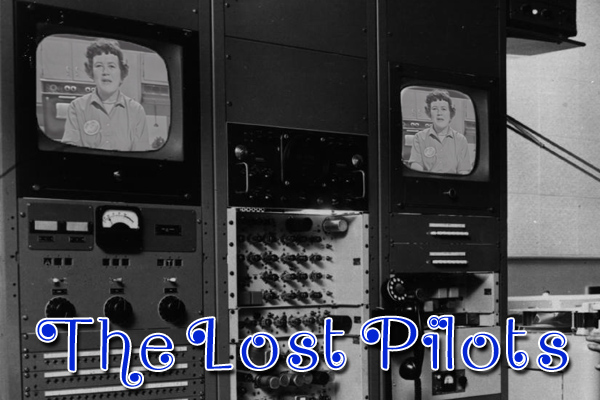 blank
In an era of streaming content, binge watching and DVD boxed sets, it's hard to imagine that any television producer would eliminate a lucrative source of revenue by erasing the tapes of an episode they just filmed.  But in 1962, it was common practice to tape over aired shows as a cost savings measure. Because of this train of thought, many historic moments in the medium's history are lost forever – including the first episode of The Ed Sullivan Show, nearly all the episodes of The Tonight Show with Jack Parr – and most importantly, the three pilots of The French Chef.
Filmed between June 18 and June 25, 1962, the first three episodes titled "The French Omelet," "Coq au Vin," and "Onion Soup" were unfortunately taped over by WGBH.  So unless you watched them live, you'll never get the chance to see them.
Source: Appetite for Life: The Biography of Julia Child by Noel Riley Fitch
---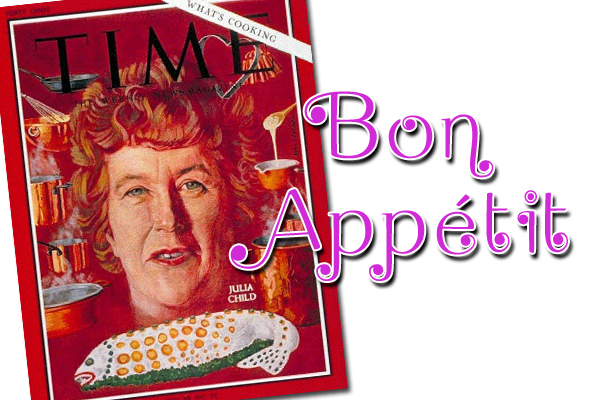 blank
Today the phrase bon appétit is so embedded into our collective lexicon, we rarely think about its origins.  Yes, it's a French saying which means, "enjoy your meal" but when exactly did Americans start using this foreign expression?
Look no further than Julia Child and The French Chef who at the end of each episode would look straight into the camera and sign off with: "This is Julia Child. Thank you. Bon appétit!"
In Dearie: The Remarkable Life of Julia Child, author Bob Spitz writes:
"For most viewers, that phrase was a complete mystery. It wasn't customarily said at tables—or anywhere, for that matter. The audience could only guess at its meaning, an expression for which there was no correlation in English. And, yet, it had such an exotic sound to it. Bon appétit! There was something musical about it, festive, something merry and playful. And when it rolled so exuberantly off of Julia Child's tongue, it felt as comfortable as a warm hug."
Source: Dearie: The Remarkable Life of Julia Child by Bob Spitz
---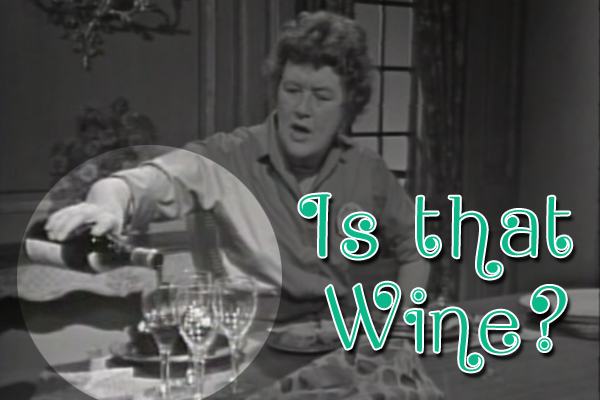 blank
In 1963, with the exception of a few ethnic pockets around the country, America was certainly not a nation of wine drinkers.  The Don and Betty Drapers of that era mostly sipped on Martinis, Blue Hawaiians and numerous other cocktails whenever they went out to dine.  And if they got tired of drinking spirits, beer was the next best thing.
So when Julia Child finished an episode of The French Chef with a glass of wine in her hand, believing that it should be enjoyed with meals, it was quite a culture shock to most Americans watching at home.
But little did people know back then that Child wasn't drinking wine at all.  Due to the miniscule budgets, neither the show's host nor the producers could afford to buy wine for her signature salute.  Instead, the glass was filled with water and darkened with GravyMaster, a coloring agent.
Source: The United States of Arugula: How We Became a Gourmet Nation by David Kamp
---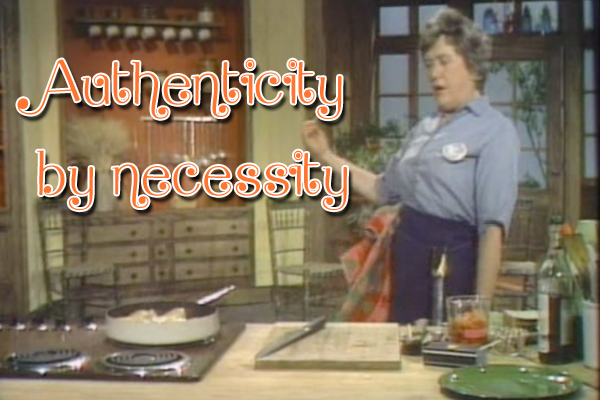 blank
With only a few hundred dollars to produce each episode of The French Chef, WGBH couldn't afford to do rehearsals.  Nor was it in the budget to make edits and splices, putting enormous pressure on Child to go nearly thirty minutes uninterrupted.  And despite preparing for each show like it was make or break, something was bound to go wrong during a half hour taping – and it did, many times.
However, all of these bloopers only added to the show's authenticity as viewers saw these mistakes more as teachable moments.  Who hadn't spilled something on the floor or overcooked a dish in the stove?  "Honest" and "natural" became the words associated with Julia Child, who brilliantly turned a perceived negative into an absolute positive.
Source: Julia Child: A Life by Laura Shapiro
---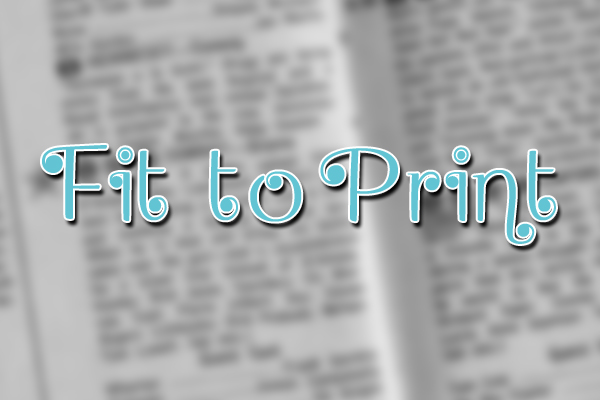 blank
Before the show's debut, a number of names were thrown around.  They included:
The Gourmet Kitchen
Cuisine Magic
The Gourmet Arts
The Chef at Home
Cuisine Mastery
Kitchen a la Francaise
French Cuisine at Home
So why did they settle on The French Chef?  It had to be short enough to fit nicely into the newspaper's television guide.
Source: Appetite for Life: The Biography of Julia Child by Noel Riley Fitch
---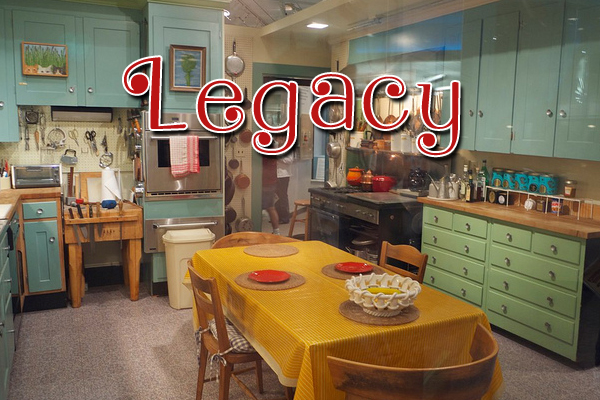 blank
Although the show has been off the air since 1973, there is no doubting the enormous footprint that Julia Child and The French Chef has left on the food industry.  Appearing on the cover of Time in 1966, the magazine noted that "Let Julia Child so much as mention vanilla wafers, and the shelves are empty overnight."  Also, during a time when most people stored pots in their kitchen cupboards, she was able to show the world how to maximize space by hanging them on the wall with pegboards – a decorative trend that has more or less continued to this day.
---
You might also like:

Loading ...