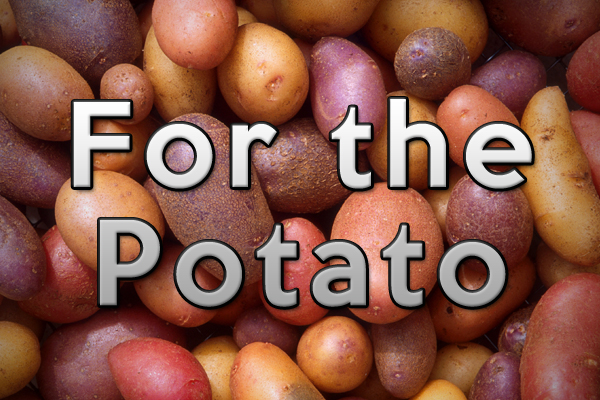 I really like potatoes prepared in so many versatile ways! When travelling in the old days I could never get enough creamy potatoes Dauphinoise or buttery pommes Anna in France, fried with onions bratkartoffeln in Germany, patatas bravas or Spanish omelette in Spain, rosti in Switzerland, samosa with spiced potatoes in the Middle East and South Asia, poutine in Quebec, hash browns in the USA, mashed in the UK with more upscale purees internationally and more. Many versions of potato salad and potato chips out there. Fond memories of those minimum one pound gargantuan baked Idahos with sour cream at Seattle's Canlis restaurant. Still enjoy hot crisp fries with a condiment of home made ketchup, mayonnaise, or vinegar. However these days I eat potatoes mainly at home sliced & oven baked (rather than fried) with olive oil. Also prepare sweet potatoes the same way.
At our local Farmer's Market this past weekend no Russet Burbank in sight but mainly round whites and reds. Special varieties are in particularly Sieglinde, Yukon Gold, White Rose, Fingerling etc. Small size is really in. In general though potatoes are out. An interesting article on August 13, 2014 in the Wall Street Journal Marketplace section by Andrea Gallo "Pity the Potato, Which Has Fallen From Grace – Consumption Declines as Americans Cook Less and Fear Carbs". They report that "Consumers have shunned the starchy side dish in a race away from carbohydrates and toward greater convenience"  and "Time-pressed Americans, who are cooking less and less, can hardly spare the roughly 10 minutes it takes to microwave a whole potato, let alone the hour needed to bake them in conventional ovens." They report that an Idaho-based grower, shipper, and marketer of potatoes Wada Farms Marketing Group LLC "is about to launch a line of Smalls Artisan mini-Potatoes, bite size red or gold spuds specially packaged to cook in a microwave in five minutes."
Do you still eat potatoes? What is your preferred method of cooking?

Loading ...