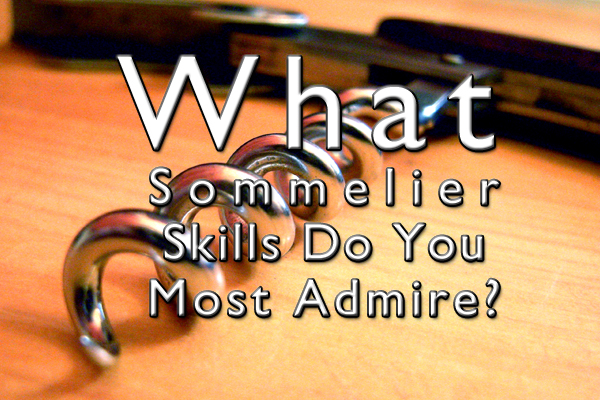 By Myself (It's me) [GFDL or CC-BY-SA-3.0], via Wikimedia Commons
Dining out at several restaurants recently I marveled at how so many younger sommeliers have such a great handle on the distinct characteristics of the different wines they have put on their wine list and knowing what food dishes best complement each wine. This requires a lot of intensive study and is undoubtedly a most valuable skill to acquire. Got me thinking about what other skills should a top sommelier bring to their interesting job.  Remembered the late great Charlie Trotter's eponymous Chicago restaurant that opened in 1987 and his book series on Lessons because he inspired so many top sommeliers in their craft including Master Larry Stone. Dug out his Lessons in Wine Service by Edmund O. Lawler (2008 Ten Speed Press) and the conclusions reached there and quoted below as follows for your consideration:
"The sommelier must be the best service person in the house…must have the ability to:
SCAN THE ROOM – Court Vision
READ A GUEST  – Discern the guest's needs…Listening skills are paramount
ANTICIPATE – Develop a sixth sense for what the guest may want next
NAVIGATE – Guide through a three-hour dining experience…Must take complete ownership of the table
OPERATE WITH STYLE AND GRACE –  Conscious of the guest's space
TASTE – Sommelier's discerning palate can help protect a guest
COOPERATE – Exercise tact when working with the kitchen
LEAD – General service staff look to sommelier for guidance…must be able to guide the flow of service
INSPIRE – Convey a sense of enthusiasm to the staff
MENTOR – Share their wisdom and experience
ACCEPT CRITICISM – Alert…to things that need to be done better
ADMIT MISTAKES – Never pointing fingers and by working with the guest on steps to make it right
NEGOTIATE – Know the market, pricing trends, and how to economically fill the cellars
REPRESENT THE RESTAURANT – Face of the restaurant…must be an articulate spokesperson for the restaurant
ORGANIZE – Weekly training sessions must have a sharp focus and a clear objective
MASTER THE ART OF HOSPITALITY – Make a guest feel at ease…It's the mark of a gracious host"
Which are most important to you? Any further skills to add?

Loading ...