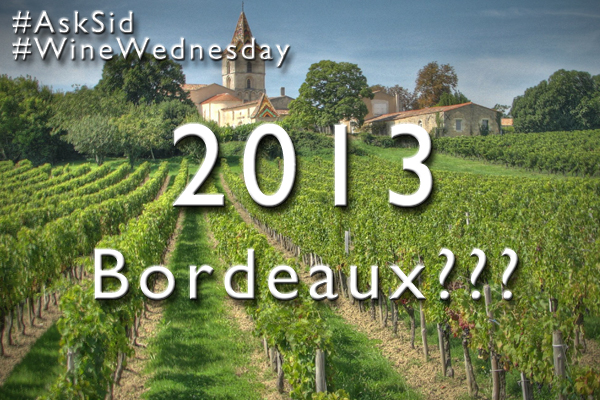 By michael clarke stuff (Cars, Blaye 02 HDR) [CC BY-SA 2.0 or CC BY-SA 2.0], via Wikimedia Commons
Question: I thought 2013 Bordeaux was a difficult vintage year but now am hearing conflicting reports. Would you set me straight Sid?
Answer: I will try. The weather conditions in Bordeaux were rainy and not sunny enough to ripen the red grapes in 2013. The white grapes developed better and there will be some excellent white Bordeaux & Sauternes with lots of botrytis to acquire and enjoy. Remember that there are always merchants out there with a vested interest to be bullish and to try to sell you the latest new inventory or even futures. Also there will be some producers able to make fine wine even  in difficult conditions. In fact lower yields resulted in less total wine with a majority going into the second and third labels rather than the Grand Vin so there may be some better values at lower alcohol. However for the Bordeaux consumer 2013 is caveat emptor – or buyer beware – and unless you need the vintage for a vertical why buy a bad vintage which is risky rather than a consistently ripe vintage like 2009 or 2010 or even the great 2005. There are some fun tongue in cheek articles on this vintage such as one by Ron Washam posted on http://www.timatkin.com/articles?1197. My friend John Salvi MW who contributed a brilliant essay "Making Red Wine to Age – A Technical Discussion" in my Monograph of "An Appreciation of the Age of Wine" has a fantastic analysis of the 2013 conditions at www.indianwineacademy.com/item_1_606.aspx. Hope this helps.

Loading ...