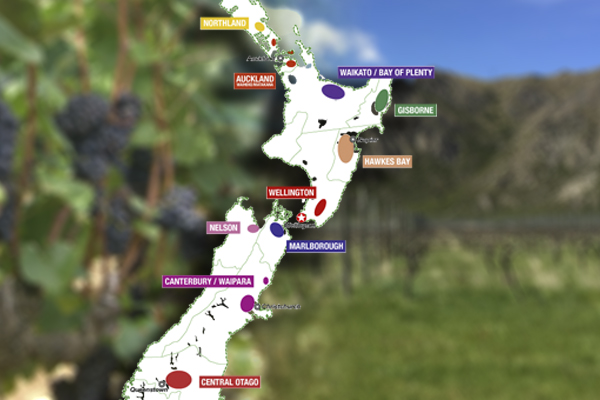 By PRA (Own work) [CC BY-SA 3.0 or GFDL], via Wikimedia Commons
By Mick Stephenson (mixpix) based on original by Plamen Georgiev (Own work) [GFDL or CC BY 3.0], via Wikimedia Commons
New Zealand Winegrowers just presented in Vancouver an excellent Master Class on "Get the Dirt on New Zealand Pinot Noir" showing 13 pinot noirs from 7 regions all served in appropriate shaped Riedel glasses. Their industry has done an admirable job now exporting 70% of wine production. Amazing when you consider that 70% of their vines are still under 12 years old. They also are to be congratulated on getting wonderful compliance from most everyone on using sustainable farming practices. World recognition for NZ Sauvignon Blanc is now quickly followed by other aromatics as well as a viable competitor for a range of pinot noirs. Also really enjoyed the fresh so drinkable Forrest "The Doctors" 2012 dry SB coming in at only 9.5 alcohol from earlier low yield pickings and fermented at quite low temperatures. The descriptive characteristics given for the pinot noir regions  in New Zealand are as follows:
(1) NELSON: "Small region of artists and artisans. Fragrant, complex, softly textured with bright cherry and plum flavours".
(2) MARLBOROUGH: "The largest region for pinot noir. Bright red fruit, raspberries and plums. Linear structure with even tannins".
(3) WAIPARA VALLEY: "Limestone influences in areas. Red fruit and darker plummy, sweet fruits, with hints of pepper ad spice. Firm tannins and acidity."
(4) WAITAKI VALLEY: " Rare wines from limestone country". Dark fruit and minerals cut with suave acidity".
(5) CENTRAL OTAGO: "World's most southerly wine region. Black cherry flavours, fresh herbs. Firm."
(6) WAIRARAPA: "Wider, younger region beyond Martinborough. Slightly more lifted cherry flavours than Martinborough, plus plum and tobacco".
(7) MARTINBOROUGH: Oldest pinot noir region with some vines 30 years old. Fuller, supple style with plum, chocolate and meat".
I encourage you to try more pinot noirs from New Zealand. They generally all have a bright lively acidity that matches well and improves them with food. These four dishes were served half way through the tasting and paired successfully: Tombo Tuna Tataki, Fresh Wasabi, Smoky Tentsuyu Sauce; Ginger Chicken Jiaozi Potsticker, Braised Burdock; Seared Halibut, Pata Negra Iberico Chorizo Butter; Portobello Mushroom Curry, Crispy Pakora.
Have you tried NZ pinot noir? What region?

Loading ...