With only a few months in office, President Gerald Ford had already hosted four official state dinners.  No less than a week after telling Americans that the "long national nightmare" of Watergate was finally over, the new commander-in-chief was sipping 1967 Louis Roederer Cristal alongside the King of Jordan.  And only days after granting a full, free and absolute pardon to Richard Nixon, White House officials uncorked a bottle of 1964 Dom Pérignon to celebrate the arrival of Israel's Prime Minister Yitzhak Rabin.  But for the dinner honoring Chancellor Bruno Kreisky of Austria, a new milestone in the history of 1600 Pennsylvania Avenue was about to take place.
On the table that night next to Freemark Abbey Cabernet Sauvignon and Napa Valley sparkling wine was a bottle of 1971 Vidal Blanc.  Only this bottle came from Michigan – the first wine from not only the Wolverine State, but from the entire mid-west to be served at the White House.
Mistakenly identified on the menu as Trebbiano, this particular vintage came from the Tabor Hill Winery of Buchanan, Michigan – located in the southwestern part of the state.  Because Michigan's ten wineries  grew grape varieties that could endure the icy winters of the Great Lakes region, they were able to experience such phenomenal growth that by 1974 they were in the top rankings with California and New York in terms of production.  So with a Grand Rapids native in the oval office, it was only a matter of time before his home state's wine industry was thrust into the national spotlight.
While singer Vikki Carr prepared to sing her 1974 hit "One Hell of a Woman" to an audience that included Henry Kissinger and Supreme Court Justice William O. Douglas, White House chefs got ready for the evening.  On the menu that night was a rich breast of pheasant paired with earthy wild rice (a Ford administration favorite) and chestnut purée.
Marking the first time soup was offered as the opening course since the Eisenhower administration, the second course, cold smoked rainbow trout, was arguably an ode to the Austrian guests.  And paired perfectly to this was the Michigan Vidal Blanc – subtle and fruity with citrus and pear notes, it was robust and dry enough to withstand the smokiness of the fish.  So great was this wine, that for the next five years, Tabor Hill was seen on numerous other White House function menus.
Thus, November 12th, 1974 marked the day Michigan wine had entered the mainstream.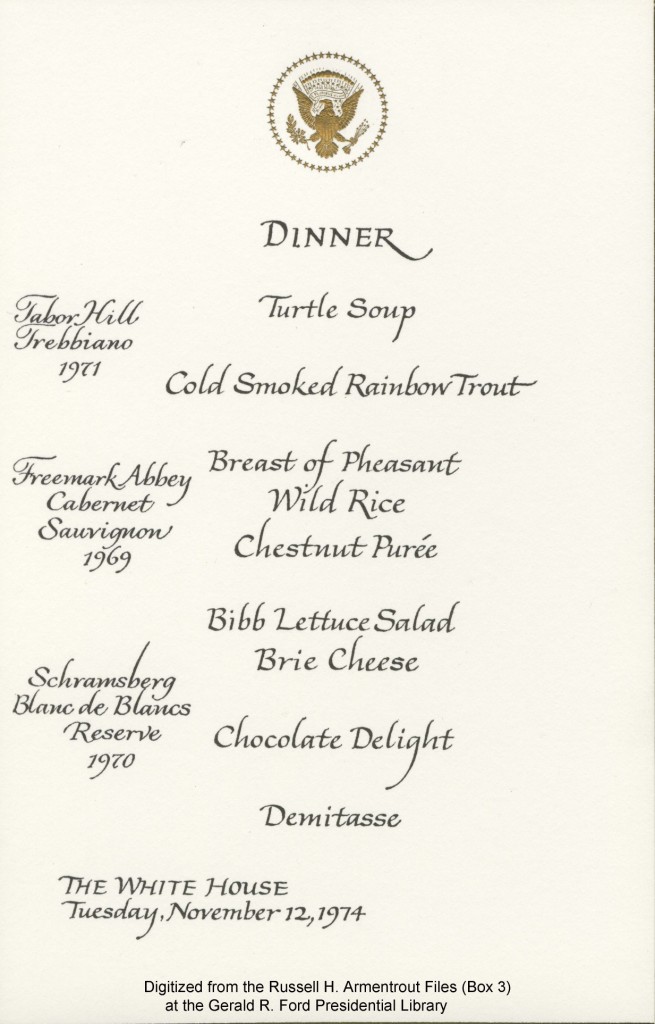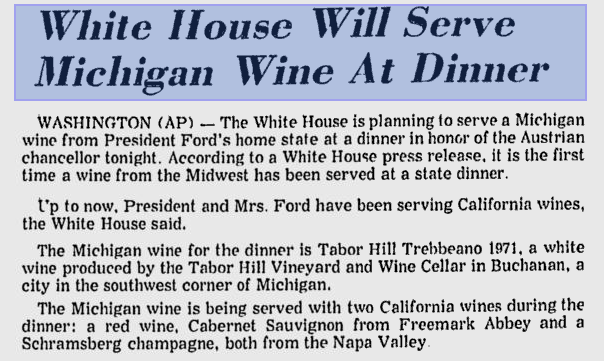 (Left) The menu. According to Michiganwines.com, the White House incorrectly listed their wine as Trebbiano. (Right) An article in the Dayton Beach Morning Journal announcing the selection of Michigan wine.
(click to enlarge both)

Loading ...