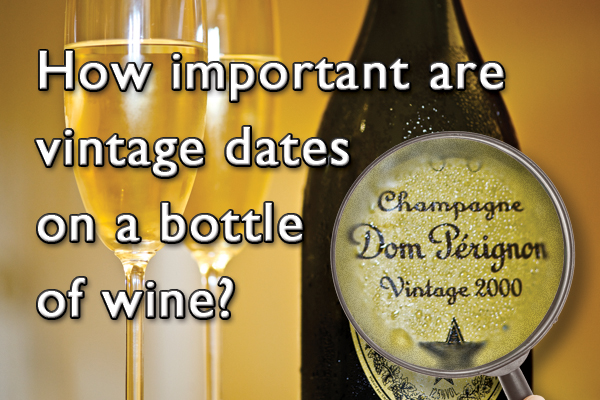 By THOR [CC BY 2.0], via Wikimedia Commons
Question: How important are vintage dates on a bottle of wine?
Answer: Very important! Even more so in regions that are quite weather variable like Burgundy & Piedmont. Less so in warmer more consistent weather areas like California and Chile. If there is no vintage date (NV) at all shown then it is suspicious as plonk where the winemaker is blending some left over non-saleable wine with the current vintage in order to get rid of it. Nonetheless I have enjoyed some NV wines like Rick Small's Walla Walla winery Woodward Canyon in Washington State for his value jammy NV Red Wine Bordeaux grape blend with syrah. Always enjoyed in the old days NV Beaune de Chateau Blanc 1er Cru Bouchard Pere but now these are always vintage dated. NV now seems more restricted to use on fortified wines of port, sherry, and madeira. The other remaining holdout is Sparkling and especially Champagne where they are blending to achieve a consistent House Style. Best example is Krug Grande Cuvee (before 1978 called Private Cuvee) that uses the blender's art of up to 120 wines from 10+ vintages amounting to 35-50% reserves for the resulting final wine. Here at a high level they are combining the best characteristics of many unique vintages as a multi vintage to produce something even better than sometimes can be produced from just one year. Therefore do not underrate all NV Champagnes. However, for collectors and at auction best wines still need a famous vintage date attached to various wines and among those that will continue to prevail include 1945 Mouton, 1947 Cheval Blanc, 1949 Latour, 1959 Lafite, 1961 Palmer, 1962 La Tache, 1967 d'Yquem, 1970 Vega Sicilia, 1974 Heitz Martha's Vineyard, 1977 Fonseca Vintage Port, 1978 Barolo Monfortino Giacomo Conterno, 1985 Sassicaia, 1990 Margaux, 1991 Ridge Monte Bello among others.
What more recent vintage classics do you see as outstanding and continuing to increase in value?


Loading ...