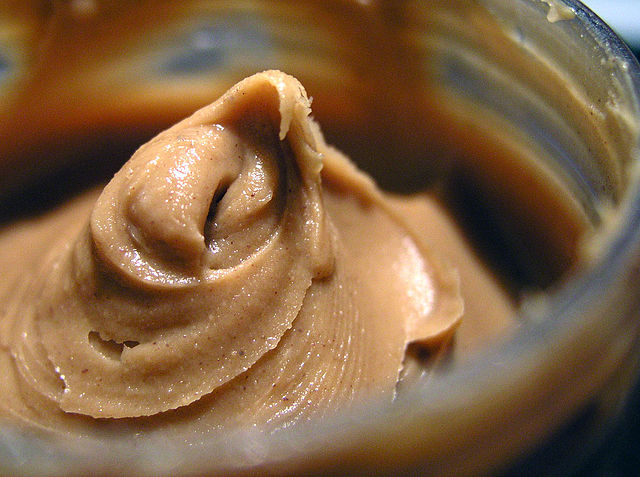 PiccoloNamek at English Wikipedia [GFDL or CC-BY-SA-3.0], via Wikimedia Commons
Unless you have a nut allergy I hope you are enjoying all those diverse nutritious healthy delicious nut butters. For a long time there was only the peanut (actually a bean legume not a nut) which started way back with the Incas in South America, first steam processed by the Kellogg Brothers and then later made commercially popular in a better roasted style. Now there are so many choices including almond, cashew, macadamia, hazelnut, pistachio, pecan, walnut, soybean, coconut, sesame seed (tahini), sunflower seed and others. Major brands like Jif, Peter Pan, and Skippy still dominate but shop around for pure natural unbranded products at your local farmer's market.
My go-to on a daily basis are:
1. Adam's (since 1922) 100% Natural Peanut Butter – just roasted peanuts! I prefer the creamy unsalted style. Maybe you like crunchy. Like how the label says "No stabilizers. No added sugar. No preservatives. No added shortening. Oil Separation is Natural. Stir before using. Refrigerate after opening."  Don't know why the 500 gram jar always seems to me to have a better oily texture than the 1000 gram (1 kilogram) even when both are equally stirred.
2. MaraNatha Natural Almond Butter (739 gram jar from Costco – used to be glass now plastic) – only dry roasted almonds! Double ground, small batch roasted with no sodium makes for a richer very almond experience. Label says "Gluten Free. No Added Sugar. No Preservatives. No Hydrogenated Oils. No artificial colour or flavour".
What product do you enjoy and recommend to us?

Loading ...