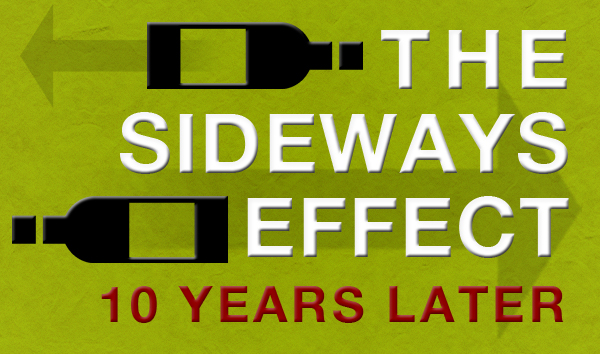 By Joseph Temple
In the fall of 2004, oenophiles everywhere arrived at their local movie theater to watch the Academy Award winning film Sideways.  The tale of Miles Raymond, a failed writer and wine-aficionado traveling through California wine country with his womanizing best friend Jack for an unforgettable week-long bachelor party became a certifiable smash hit, grossing over $100 million dollars in worldwide ticket sales.
With its enormous crossover appeal, anytime someone mentions "wine" and "movies" in the same sentence, Sideways is likely the first flick that comes to mind.  And an astounding number of columns, blog entries and even peer-reviewed academic journal articles have been written about the so-called "Sideways Effect." Full of anti-Merlot sentiments, one of the movie's most memorable lines is when Paul Giamatti's character bluntly states, "if anyone orders Merlot I am leaving. I am not drinking f—–g Merlot!" Throughout the film, Pinot Noir is his clear preference, describing its flavors as "brilliant," "thrilling," and "subtle."
Ever since audiences heard those words, wine geeks have tried to prove a correlation between Merlot's decline and Pinot Noir's rise based on the movie's influence.  But in 2009, several academics writing for the Journal of Wine Economics concluded: "… Sideways did have a small negative impact on the consumption of Merlot while increasing the consumption of Pinot Noir.  However, far from having a "devastating" affect, the positive impact on Pinot Noir appears greater than the negative impact on Merlot."
What do you think?  Ten years later, can you still feel the impact of that film whenever you attend an event?  Are you or somebody you know still hesitant to drink Merlot?  Share your thoughts by voting and/or posting a comment below.

Loading ...