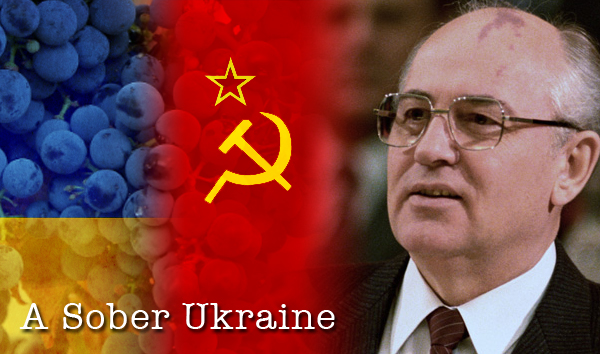 RIA Novosti archive, image #850809 / Vladimir Vyatkin / CC-BY-SA 3.0 [CC BY-SA 3.0], via Wikimedia Commons
By Joseph Temple
In the city of Odessa, tourists from around the globe arrive every year to enjoy its scenic beaches, an architecturally stunning opera house, and the Potemkin Steps, which take them directly from the city center to the beautiful shores of the Black Sea.  Rebuilt by Catherine the Great in the late eighteenth century, it has all the charms of Old Europe.  And of course, what would a visit to this coastal city be without having a glass of its famous sparkling wine.
As the largest wine-producing region in Ukraine, Odessa – like other areas in the Crimean Peninsula – benefits from a continental climate where its winters are moderated by the seas, making it an ideal spot to harvest grapes.   In fact, from its southern shores to the Carpathian Mountains, Ukrainians have been making wine since fourth century B.C.  Growing many varieties that include Rkatsiteli, Muscat, Aligoté and Riesling, perhaps the greatest structure honoring the country's wine heritage is the Massandra estate.  Built by Czar Nicholas II in the late nineteenth century, this winery was renowned for producing some of the world's best vintages by using the most modern operations of its time.
But even with this rich history, it is an industry that was almost wiped out nearly three decades ago.  Similar to how American wine barely survived the man-made disaster known as prohibition, Ukrainian wine also fell victim to deeply flawed social engineering.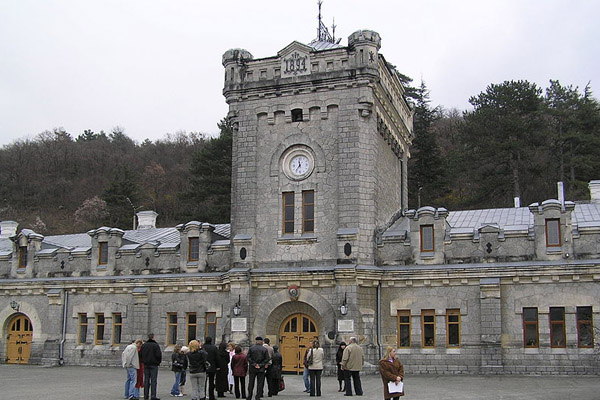 The Massandra Winery.  Located in the Crimea, it was built under the orders of
Czar Nicholas II so he could enjoy the finest wines at his nearby castle on the Black Sea.
The story begins in May of 1985, two months after Mikhail Gorbachev assumed power of a declining Soviet Union.  Times were hard and the streets of Moscow were being overrun with alcoholism.  Running on a slogan that called for a "sober population," Gorbachev tried to combat this epidemic by legislating morality.
And in true Communist fashion, extreme price fixing took place in order to make it financially impossible for the average citizen to drink.  By September of 1985, a bottle of sparkling wine increased by fifteen percent, while vodka and brandy shot up a staggering thirty percent.
Not confined to tackling just the demand, Gorbachev also went directly after the supply.  Seeing wine as a prime source of alcoholism, orders were given to not only reduce the output from Soviet wineries but to physically rip out the vines that produced this drink.  For nearly three years, field after field was systematically eliminated, reducing the total acreage by an entire third.
A Soviet poster during the Gorbachev led anti-alcohol campaign of the mid 1980s.
As author Brian Sommers writes, "in communist societies, wine producers are pretty low on the pecking order because they produce consumer goods that are associated with wealth.  For a time during the Gorbachev era, wine and all other alcohols were considered a societal evil."
And nowhere was this new reality felt more than across Ukraine.  In 1985, along with other republics, the Soviet Union was the world's third biggest producer of wine, behind only Italy and France.  One year later, nearly 800 square kilometers (almost half) of Ukrainian vineyards were wiped out as part of an edict that accomplished little in the long run.
Gorbachev's policy played out almost the exact same way it did in the United States during the 1920s and early 1930s.  While alcohol-related crimes did indeed drop during this crackdown, many Soviet citizens went underground to satisfy their thirsts.  As home brewing and wine making exploded, the loss of taxable revenue took its toll on the economy.  Reformer Nikolay Shmelev observed in 1988 : "By giving away revenue to the bootlegger, the government in the last two years has sharply increased its budgetary imbalance."
Nearly thirty years later in the vineyards of Ukraine, the ripple effects of its Soviet past are still being felt to this day.  Although production is at almost 400,000 tons of grapes annually, productivity is as low as 6.6 tons an acre.  Unable to keep up with their own domestic consumption, Ukraine must import wine from other countries just to meet the basic demand. However, there is a renewed hope that with increased access to western markets and investors, Ukrainian wines will experience a renaissance with its bottles being sold across North America and western Europe.

Loading ...