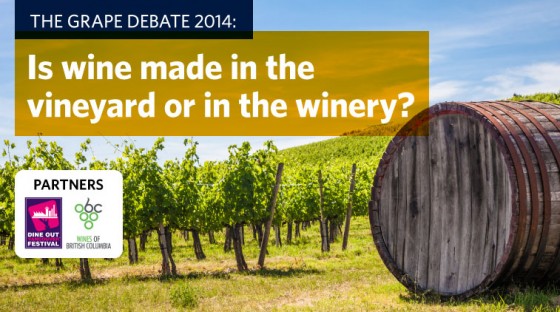 Photo credit: www.alumni.ubc.ca
The University of British Columbia Alumni has started an interesting new event called The Grape Debate. It is becoming an important spotlight on issues involving the wine industry and is partnered by Wines of British Columbia (www.winebc.com) and Vancouver Tourism Dine Out Festival (www.tourismvancouver.com/dine/dine-out-vancouver-festival).
The inaugural one held last year had the topic "Should British Columbia have a Signature Wine Varietal?" (www.alumni.ubc.ca/2012/events/the-grape-debate). A panel of 3 for each side argued pro and con with yours truly arguing for limiting the present 60+ grape varieties to the ones that have so far shown the most distinct potential like: cabernet franc, chenin blanc, pinot noir, riesling, syrah, and white blends. Presently the most planted varieties are pinot gris & merlot as well as a fair amount of cabernet sauvignon which most years has difficulty in reaching phenolic ripeness. A hand vote by those attending the Debate showed a preference for allowing the 200+ wineries to continue to experiment and not be tied to any one signature variety.
The 2nd Grape Debate (www.alumni.ubc.ca/2013/events/the-grape-debate-2014) was just held this last weekend and the question posed was "Is wine made in the Vineyard or in the Winery?". The issue was stated as follows: "Every wine is unique in some way. Some would attribute these distinctive qualities to "terroir", while others would consider them to be a reflection of a winemaker's style. Vineyard location and weather during the growing season certainly impact the grapes in many ways, but the winemaker's attention to detail and signature techniques may also have significant effects on the final product. Is the importance of "terroir" overstated? Are talented winemaker's undervalued? And where do vineyard managers fit into all of this?"
Same format as last year and your friendly blogger naturally chose the terroir/vineyard side. After all I really appreciate the unique terroir shown by vineyards in Burgundy (including Chablis), Bordeaux, Piedmont and so many other top unique vineyards around the world. For me wine always starts out as being made in the vineyard and the greater the wine the more true it is – wherever grown! However the average consumer seems to be driven more and more by price and a consistency of style and flavours that they enjoy. Wine is being made better everywhere in the world thanks to so many skilled winemakers and consultants. However a growing emphasis on branding, packaging and higher residual sugar is worrisome. Super ripe grapes, warmer climates, and too much new oak tend to mask the terroir while aged vines and older larger size oak help show it. I like a couple of quotes from experienced winemaker's as follows: "One must have the courage to do nothing" (Dominque Lafon's father) & "A winemaker is like a doctor. Must know when there is a problem and how to cure it. Skills are prevention to protect the natural wine from colds, the flu and other maladies. Sometimes doing nothing or as little as possible is the most important thing" (Andre Machetti of Mastrojanni Brunello).
The straw vote taken was very close indeed but the crowd slightly preferred the winemaker/winery influence over the terroir/vineyard. What are your thoughts on this topic? Also please suggest a hot new grape/wine topic we can explore in debate for 2015.
A video of our debate will be posted soon on the UBC Alumni site. Check it out.

Loading ...