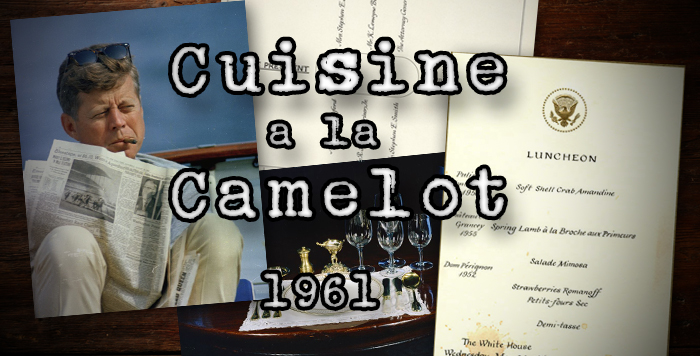 By Joseph Temple
On the same day Americans were summoned to 'ask not what your country can do for you, but what you can do for your country', John Fitzgerald Kennedy sat down for his first meal as 35th President of the United States.  After starters of creamy tomato soup and deviled crab meat Imperial, the next course catered specifically to the new Executive Branch of JFK and LBJ: New England boiled stuff lobster with drawn butter and prime Texas ribs of beef au jus.
This was the beginning of Cuisine à la Camelot.
For a thousand days, 1600 Pennsylvania Avenue became the epicenter for lavish state dinners and meals that symbolized early 1960s enthusiasm.  Historian Marie Smith in her 1967 book Entertaining in the White House writes, "Not since the days of Dolley Madison had the White House been the scene for such brilliant entertaining as was done by First Lady Jacqueline Kennedy and her history-conscious husband, John F. Kennedy – and not since the days of Thomas Jefferson, America's first gourmet of renown, had more serious thought been given to White House standards of food and drink."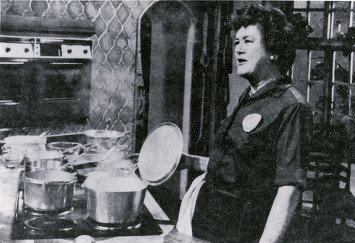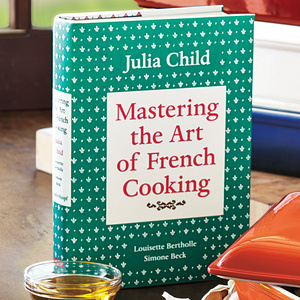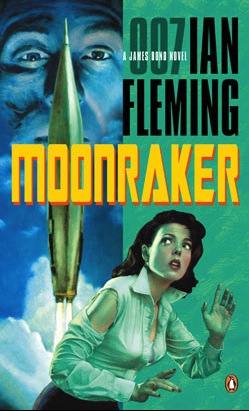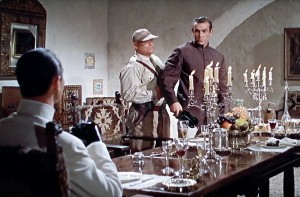 INFLUENCES: Julia Child (left), the world's first "celebrity chef" popularized French cuisine with her cookbook Mastering the Art of French Cooking (2nd from left). Spy James Bond drinks Dom Pérignon '46 in the 1955 novel Moonraker (2nd from right).  Kennedy was a huge fan of author Ian Flemming and his 007 character, who debuted on the big screen in 1962's Dr. No where Sean Connery's character tells his captor after trying to break a bottle of Dom Pérignon '55 over a guard's head "I prefer the '53 myself." (right)

It was 1961 and Julia Child was at the height of her popularity after releasing volume one of Mastering the Art of French Cooking.  Anything French was distinctly fashionable throughout American culinary circles.  So it is no surprise that many dishes served to the Kennedys and their guests paid tribute to White House Chef René Verdon's Parisian roots.  With casseroles of the 1950s clearly out-of-style and the ration books of the 1940s a distant memory, the new  administration was a clear shift from the previous era symbolized by Truman and Eisenhower.
Chef Verdon took over an operation previously run by caterers and Navy stewards not known for producing quality dishes and transformed it into the modern White House kitchens we know today.  Promoting local fresh foods before it became fashionable, his kitchen staff cemented the Kennedys as hip culinary trend setters  – resulting in many suburban housewives making soufflés, pâtés, and pork rillettes for their own dinner parties.
Debuting with trout cooked in Chablis, roast fillet of beef au jus, and artichoke bottoms Beaucaire, Chef Verdon's meal for JFK and British Prime Minister Harold MacMillan made the front-page of the New York Times, prompting Craig Claiborne to write, "there was nothing like French cooking to promote good Anglo-American relations."
For the visit of Korean General Chung Hee Park, a lunch that can be described as classical upscale French cuisine meets Southern style cooking was served.  It featured snails in brown butter parsley sauce, barbecue chicken, potatoes, and creamy mushrooms.  A simple yet elegant lunch filled with the charming rustic touches of an open grill.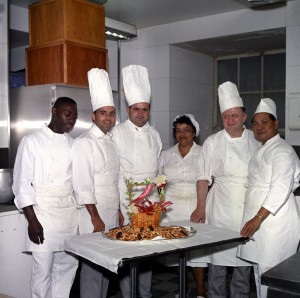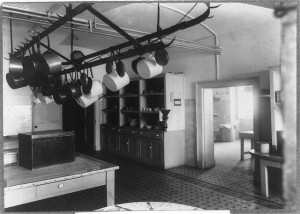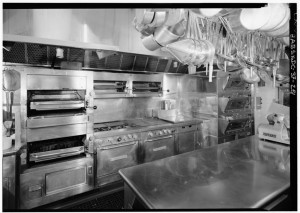 (Left) White House Executive Chef René Verdon (third from left) and members of the White House kitchen staff pose with an assortment of cookies. The kitchen went through numerous renovations in the 20th Century.  The kitchen in 1901 (middle) and in the 1950s (right).
And during most of 1961, the Kennedys drank almost exclusively French Wine and Champagne.  An example wine menu from the 1961 White House gala in honor of former President Harry Truman: 1955 Château Gruaud-Larose – an underrated vintage of pure cedary Cabernet second growth, St. Julien styling, 1958 Puligny-Montrachet Les Pucelles – a Chardonnay with pronounced notes of creamy buttered apples, and 1952 Cuvée Dom Pérignon Brut.
It is no surprise that Jack Kennedy loved Dom — the same drink consumed by a fictional spy named James Bond in the Ian Flemming novels that the  president devoured.  And while Agent 007 preferred a '53, the 1952 served at the White House was a long aging firm rich year when there was still some barrel fermentation for complexity.
In an era before Twitter, cell phone cameras, and a tabloid media, the press largely complied with the Kennedys' request that the wine list from White House functions not be printed in the next day's  newspapers.  However, when word began to leak that no American wines were being consumed, public pressure convinced them to start serving wine from the United States and more specifically California – a region that hadn't yet exploded into the mainstream.
"We served only French wines in the beginning," recalled Kennedy White House social secretary Letitia Baldrige.  "But about six months into the Administration there was such a hue and cry about it that we began to serve mostly American. We would serve one good French – either a wine or Champagne – but the other two wines would be American. And sometimes we would serve an Italian wine such as a Soave Bertani."
At the table with his guests however, Kennedy was not always on top of his game in terms of dinner diplomacy. When Monaco's Prince Rainier III and his movie star wife Grace Kelly stopped by in 1961, the president worried about mispronouncing his name "Prince Reindeer."  Months earlier, he had enraged Canadian Prime Minister John Diefenbaker when at the White House, he called him in front of the entire press corps "Prime Minister Dee-fen-bawker."  He did not want an incident like that to occur again.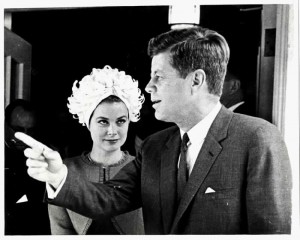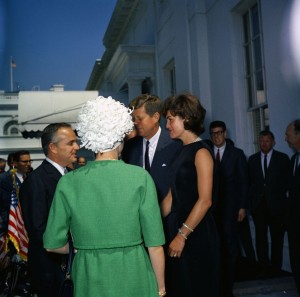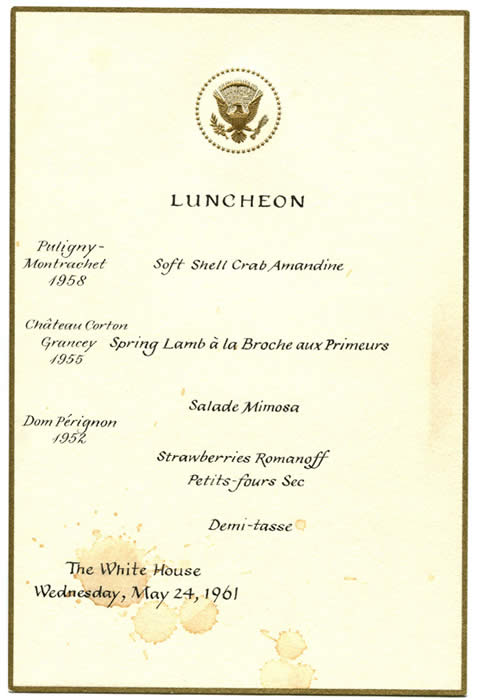 (Left, Middle) Prince Rainier III and Princess Grace of Monaco Arrive at White House for a Luncheon in Their Honor. (Right) The menu for their visit.

But as they enjoyed their light lunch of Salade Mimosa, Soft Shell Crab Amandine, and Spring Lamb à La Broche Aux Primeurs, JFK accidentally responded to the Prince with "Prince Reindeer" in his signature Bostonian accent.  Thankfully, the gaffe was short-lived when in an interview four years later, the Princess recalled every detail of the lunch including all the dishes she had eat – a clear sign of success for Kennedy's kitchen staff!
Away from Washington, JFK and Jackie were treated to an impressive feast at Buckingham Palace.  It was 5 June 1961 and a little over a month since the disastrous Bay of Pigs invasion.  The previous day in Vienna, Kennedy had stared down Nikita Khrushchev in a high-stakes game of nuclear diplomacy over Berlin – setting the stage for future confrontations in 1962.  So with Queen Elizabeth and Prince Philip by his side, the president ended his European charm offensive by enjoying some very royal dishes.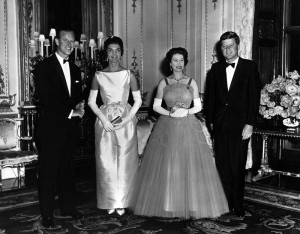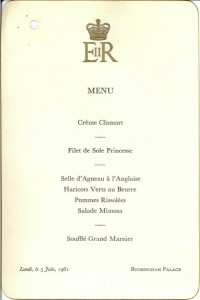 (Left) Prince Philip, Jacqueline Kennedy, Queen Elizabeth and JFK pose for a photo at Buckingham Palace.  (Right) The menu from that event.
Beginning with creamy pea soup, hollandaise sole garnished with asparagus second, lamb and buttered green beans was served as the main course.  This seemingly simple menu would have been masterfully executed with classic French techniques to impress Her Majesty and guests.  Not only did the many refined sauces showcased make precision timing critical, the showstopping Grand Marnier soufflé served for dessert is one of the most difficult dishes to execute for such an expecting crowd.
Clearly, 1961 served as transformational year for food and wine served in the White House; 1600 Pennsylvania Avenue was now on the cutting edge of the culinary arts.  An exclusive team of superb cooks, headed by a French chef, would shape food and wine served even today to the modern Presidency.
Please have a look at the pictures and menus on this page by clicking to enlarge them.  Also, vote for what you think is the best dish served during this year and leave your comments.  Special thanks to Sid Cross who helped to provide information on the wines.

Loading ...