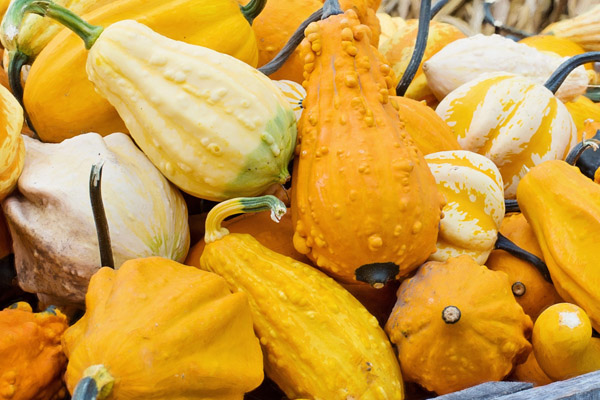 The Fall season has arrived for the versatile underrated vegetable of Winter squashes. These are to be differentiated from Summer squashes such as zucchini. Driving by the family owned Mariposa Fruit Stand on Highway 3 at Keremeos, British Columbia we had to stop attracted by the multi coloured bins piled high.  Loaded up our car with several of the many varieties there including acorn, butternut, delicata, turban, kabocha (buttercup), and the newer grey ghost (a kabocha hybrid). Also the new crop of Gala & Ambrosia apples as well.
Brief thoughts about a few varieties:
Acorn – smaller green shaped like an acorn, yellow orange inside, harder to peel, don't keep quite as long, stuff them.
Butternut – shaped like a bell or pear with a narrower neck, yellow inside and perhaps sweetest.
Delicata – smaller oblong shape like an exotic cucumber with stripes, thin skin, keep shorter time, almost sweet potato texture and corn flavours.
Turban – irregular shapes with turban shaped top, milder, for soups, use as decoration like a gourd.
Kabocha – round squat like a dark green pumpkin, harder to cut, sweeter orange flesh, less fibre makes for a smooth nutty puree.
Spaghetti – oval oblong paler yellow flesh, less sweet, stringy and scoop out after cooked with a fork to make strands.
Hubbard – very large blue green thick rough skin, orange/yellow flesh, keep well, milder, great roasted.
We successfully grew acorn in our home garden.
Cooking tips by Joan Cross:
Except for delicata and spaghetti squash which can be steamed or baked to show off their delicate character this following method should work well for most winter squashes: Cut in half, remove seeds, rub cut surfaces with EVOO and S & P. Place cut side down on parchment paper (www.paperchef.com). Roast 375F until fork tender. Cut surfaces will caramelize.
Serve as a versatile vegetable in pieces as a side dish or as a puree by itself or in a soup; in a ravioli; roasted, small cubes in a risotto; in your bread or baking (instead of pumpkin puree in a pie) etc. For a soup you can also use a leek and/or an apple with some fresh herbs or spices to taste. Enjoy!
Do you use winter squash? What is your personal favourite variety? Let us have your best recipe.
No marshmallows please!

Loading ...