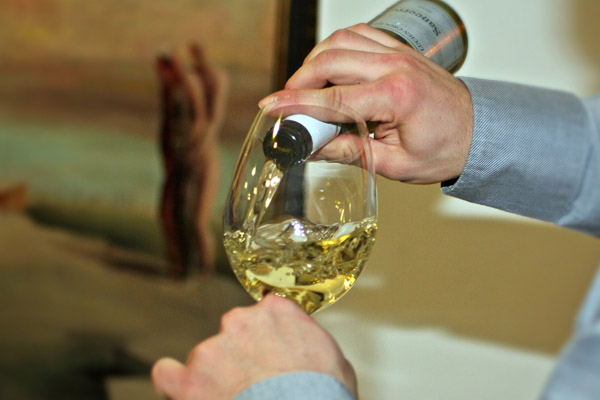 All of us would generally agree that white wines are often served too cold and reds too warm. This is accentuated even more now in mid-Summer (I know Down Under it is mid- Winter) when many whites are appreciated for being thirst quenching cold and reds are suffering from very abnormally hot room temperatures. However it is important that you consciously try to serve your wines within the best temperature ranges for that specific wine to give you the best attributes the wine has to offer. Coldest would be Sparkling, then Champagne, followed by Dessert wines, Roses and light aromatics, most Whites, bigger whites especially Chardonnay & Viognier, then Beaujolais, Dolcetto, & Pinot Noir and lighter reds, most Reds & Fortified all in ascending temperatures. However, in many restaurants the whites reside in the fridge and the reds stand in the dining room – both often not ideal for your wine enjoyment. Don't be afraid to ask the sommelier or server to take your white wine out of the fridge early and not to transfer it into an ice bucket. Also to please put your red wine into an ice bucket for a few minutes to cool it down. Remember that it is better to serve too cold then too warm as it will warm up with airing in the glass but it will be difficult to cool it down once it is poured. Often very frustrating for a special classy red Burgundy served too warm!
One revelation was having two bottles of the 100 year old vines Santa Rita superb 2005 Pehuen Carmenere Apalta 14.7 alcohol at their winery in Chile. One was served room temperature in a non air conditioned room at lunch on a hot January day (summer) and the other well chilled. What a difference – so much so that the wines seemed completely different. The refreshing fruit and the restrained alcohol was so much more enjoyable drinking from the cold bottle both at first and as it warmed up compared to the really hot wine – in both alcohol and temperature. Lesson learned.
At a tasting of Lucien Le Moine Burgundies during Vinexpo with Mounir Saouma he served all his whites and all his reds at the very same temperature – about 15 degrees Centigrade (or about 59 degrees Fahrenheit). When I asked him about this he told me in his usual indomitable manner that it was a conscious choice as that was the best temperature for all his wines to show their unique terroir. But then Mounir also states that all his wines MUST be decanted to get rid of the natural CO2 from malolactic fermentation that is protecting his wines (because he has no filtration, no racking and no pumping). Remember that decanting and pouring also warms up your wine.
Any tips you have for us on your own experiences of ideal temperatures for any wines would be appreciated. Please share.