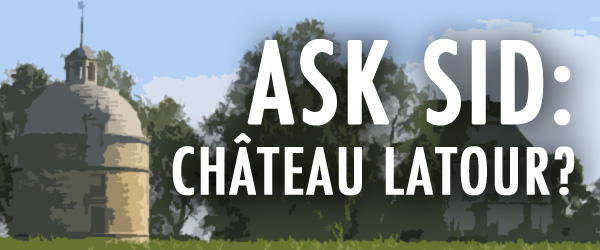 By BillBl [CC BY 2.0], via Wikimedia Commons
Question: What is it (the difference) that allows Château Latour when kept under ideal cellar conditions to age longer and better than most other classified Bordeaux wines? I recently shared an 82 Latour that had been bought on futures and kept in a cold cellar until opened in March 2017–35 years old and in still perfect color, bouquet, and taste conditions.
Answer: Excellent observation. IMHO it has to be the specific terroir of Château Latour in Pauillac giving their wines that inherent plummy fruit with balance in almost all vintages. The unique vineyard used for their Grand Vin has remained unchanged for over 300 years and has an amazing diversity of soils on slopes that are so close to the Gironde. I have been fortunate to try several extensive verticals of Château Latour and am always amazed at how long aging it is and how consistent often even in so called off vintages. Tried in 1977 in London at 3 events over 3 weeks some 36 different vintages tasting 12/week and not a disappointing bottle among them. That experience converted me ever since into becoming a very fond supporter of this property. Also impressed that same year at the IWFS Festival in London assisting John Avery and his sommelier crew in opening several cases of the profound 1945 put away by founder Andre Simon for the special occasion. Big fan of your delicious perfect 1982 but also the legendary 1961 and the underrated 1970 among many others. Château Latour seldom disappoints. Since the mid-1990s under the capable management of Frederic Engerer the wines continue to be outstanding reaching possible new heights. Château Latour certainly deserves the high reputation it enjoys for quality and the ability to age as long as or longer than most classified Bordeaux wines. It is indeed a unique terroir!
---
You might also like:

Loading ...