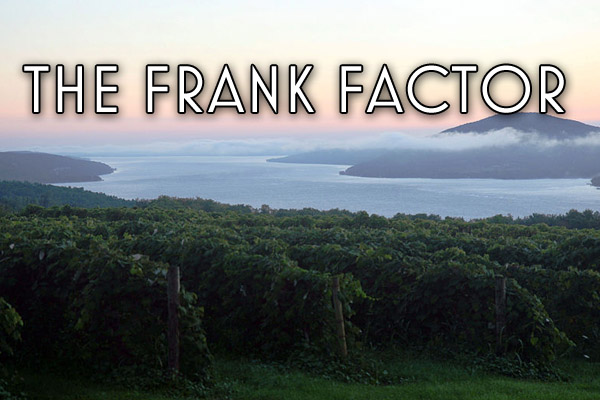 By Visit Finger Lakes (Flickr: Sunrise overlooking a vineyard) [CC BY 2.0], via Wikimedia Commons
By Joseph Temple
In Upstate New York, between Rochester and Syracuse, stands one of the country's oldest wine regions known as the Finger Lakes.   Discovered by American explorers during the Sullivan Expedition, the area today is second only to California in terms of overall grape production.  Being a certified American Viticultural Area (AVA), the eleven lakes—some with depths of over 500 feet—moderate the harsh winter temperatures, giving the adjacent vineyards an opportunity to produce some outstanding wines.
From Chardonnay to Cabernet Sauvignon, dozens of Vitis vinifera grapes are cultivated across the Finger Lakes.  However, the region's crown jewel is clearly Riesling.  Eric Asimov, wine critic for The New York Times writes, "Nowadays, top [Finger Lakes] producers are not simply making good Finger Lakes rieslings, or good American rieslings. They are making seriously good world-class rieslings, in a multitude of styles."
With endorsements like that, it's hard to believe that just sixty years ago, the situation was almost entirely different.  Back then, European rootstocks that currently dominate the landscape were nowhere to be found.  Instead, North American Vitis labrusca and hybrid grapes such as Baco Noir, Catawba and Concord were the order of the day.  Believing only native varietals could withstand the frigid upstate weather, the idea that grapes synonymous with Alsace and Bordeaux could not only grow but also thrive in the Finger Lakes was considered crazy talk.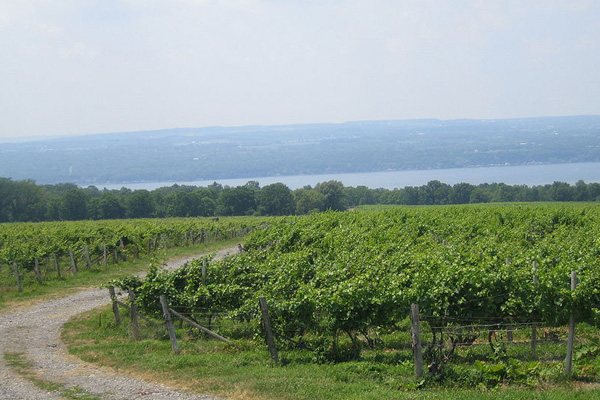 A Finger Lakes vineyard on Seneca Lake, New York.
So when a Ukrainian immigrant named Konstantin Frank arrived in 1952 and began espousing a philosophy that harvesting Riesling was just as feasible as harvesting Marechal Foch, most Finger Lakes vintners dismissed him as nothing more than a delusional crank.  Little did these New Yorkers know that Frank was equipped with a PhD in viticulture from the University of Odessa where his doctoral thesis was on the subject of growing high-quality grapes in cold climates.  And what better place to implement his theories than the Finger Lakes?
Working alongside another grower, Charles Fournier, Frank was determined to get these noble grapes past the winter months while working as the Director of Vineyards Research for Gold Seal winery in Geneva, New York.  Trying many different varieties and techniques through trial and error, he saw Riesling as the ideal Finger Lakes wine, sharing many similarities in terms of climate with Germany and Austria.  The real problem was poor growing techniques throughout the region, which he intended to fix.  His grandson Fred Frank states:
"Today, all 50 states now have wineries and a lot of that knowledge started with Dr. Frank introducing the European wine grapes to the East Coast. He was very giving with his knowledge. He wanted the industry to prosper. Many of the early neighboring states growing vinifera owe their start to Dr. Frank and his guidance and knowledge."
Starting his own winery in 1962, which still exists to this day, Konstantin Frank had proved all the naysayers wrong.  Arriving in America with little money and speaking hardly any English, he was able to transform both the Finger Lakes and vineyards across the country.  Today, his pioneering spirit can be seen in the snows of Minnesota and Quebec to the southern states plagued by Pierce's Disease.  Winemakers who thrive on adversity and challenge, growing grapes under less than ideal conditions are proudly carrying on his legacy of defying the odds.
Sources:
Asimov, Eric. (2011, Oct 11). From the Finger Lakes, Seriously Good Wines. The New York Times. Retrieved from http://nytimes.com.
Barnes, Christopher. (2014, July 6). Dr. Konstantin Frank, The Innovative Finger Lakes Winery. Grape Collective. Retrieved from http://grapecollective.com
Dawson, Evan. Summer in a Glass: The Coming of Age of Winemaking in the Finger Lakes. New York: Sterling Epicure, 2012.
---
You might also like:

Loading ...