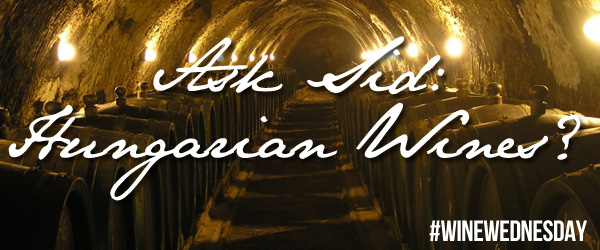 Question: I'll be traveling to Budapest later this year – can you recommend some local wines to have during dinner?
Answer: Lots of wines from 22 different regions. 5 of my favourite areas are:
1. Badacsony around Lake Balaton. Look for their Pinot Gris "Badacsony Szurkebarat " (Grey Monk) from Nemeth or Szeremley. Also Olasrizling (Italian Riesling).
2. Eger. The classic Egri Bikaver (Bull's Blood) and more. Look for Tibor Gal Winery (GIA). Hard to believe 10 years since he tragically died in 2005 from an auto accident in South Africa. Remember driving with Tibor in a 4 wheeler through the forested hills discovering former old wineries and inspecting all the innovative new plantings he instituted.
3. Szekszard. Fuller spicier reds from the local Kadarka grape and others.
4. Villany. Lots of good choices. Bock Cuvee for Bordeaux blends. Wunderlich for Cabernet Franc. Vylyan Winery has good Pinot Noir and also Syrah. Note the quality differences on the bottles ranging from lowest Classic through Premium to best level called Selection.
5. Tokay. Lots of dry and sweeter versions from Szamorodni to Aszu using grapes Furmint, Harslevelu and Yellow Muscat. Like Disznoko label.
Look out for Wine Align's Toronto Master Sommelier John Szabo's 100% Kekfrankos bottlings!
Wine Bars have exploded. Like DeVino & Kadarka.
Drive or take the tram to the Buda Hills for historic Hungarian food restaurant Nancsi Neni with your wine choice. Enjoy!
---
You might also like:

Loading ...