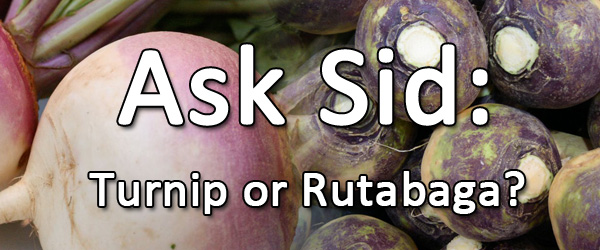 By thebittenword.com (http://www.flickr.com/photos/galant/2622027467/) [CC BY 2.0], via Wikimedia Commons
By pin add (Swede (The Vegetable)Uploaded by nesnad) [CC BY 2.0], via Wikimedia Commons
Question: My small grocery store tells me that the turnip and rutabaga are basically the same. Is this correct?
Answer: Not really. They are both healthy vegetables that can look similar but also are quite different. Turnips are usually smaller and stay white when cooked. Rutabagas are usually larger with a rougher texture and turn yellow when cooked. They are thought to be cross between a turnip and a cabbage. I prefer the classic pairing of the slightly bitter turnip with most duck recipes rather than the sweeter rutabaga. Try them both yourself and experience their subtle differences.
---
You might also like:

Loading ...