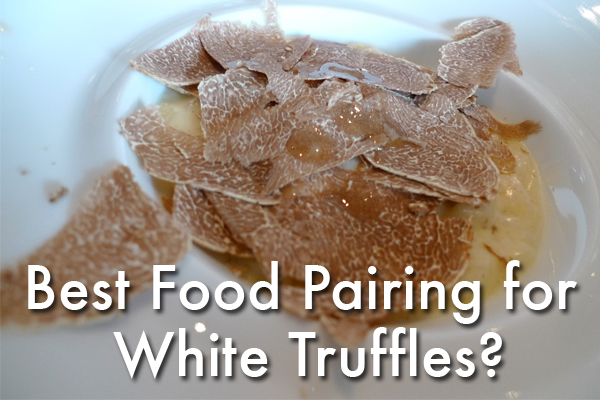 By Arnold Gatilao from Fremont, CA, USA (Risotto with White Truffles from Alba) [CC BY 2.0], via Wikimedia Commons
Tis the season for fresh Alba white Italian truffles (trifola d'Alba). I have experienced the hopeful hunt with truffle-searching dogs to find them and have attended the exciting Tartufo Bianco D'Alba with the 84th one just held October 11-November 16. They were so aptly described by Brillat-Savarin as "the diamond of the kitchen". I agree. So fortunate and spoiled to have been treated to these jewels many times over the last month. They are one of my joys of life so I always seek them out in the late Fall of each year. So different from all the other truffles including the black truffles usually from Perigord France which are better cooked. Alba white truffles have a delicate earthy unique aroma that evokes the enchantment you usually only feel from a perfectly aged fine wine. A good trick is to put a big one under a fruit ripening dome at your reception and concentrate the magical aromas for everyone in the room when the lid is lifted. I love them by themselves or with any food item. However recently I feel strongly that they are being overused with too many food matches. Recently I was served them shaved over poached sole in beurre blanc, spicy agnolotti with chanterelle mushrooms, prime New York strip, and twice with braised short ribs of beef.  Please get the most out of these treasures by serving them with simpler dishes that are less assertive themselves. I still recommend risotto, pasta or a plain omelette as the very best pairings! Follow the educated lead from Alba itself by serving them with home made many yolk tajarin (like a tagliatelle) for best enjoyment of this remarkable product.
What is your best matching dish with fresh Alba white truffles?
---
You might also like:

Loading ...