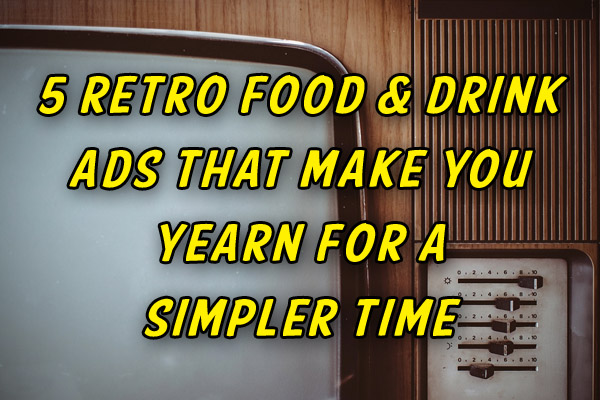 By Joseph Temple
While we all wait until 2015 to see how the final season of AMC's Mad Men ends, let's have a look at some food and drink advertisements that the real Don Drapers of the time cooked up for TV viewers of the 1960s and early 1970s – an era where catchy jingles reigned supreme.  Looking back, it's hard to imagine a commercial today lasting more than thirty seconds and yet, some of these spots approach the one-minute mark.   And in today's fast-paced world, seeing dad at the breakfast table reading (gasp) … a newspaper and not an iPhone only adds to the nostalgic feel of these ads.  So lets take a trek down memory lane with these classics.
1.  Wesson Vegetable Oil … cooks as light as it looks
This commercial is so sugary, you'll get a cavity just watching it.  If this mother and son duo performs a jingle every time they use vegetable oil, imagine what happens when they break out their favorite bottle of ketchup.
2.  Fanta Orange  … it's so fun when you're thirsty
Without question, Coca Cola was king when it came to catchy jingles.  Who can forget "I'd like to buy the world a Coke" or "Things go better with Coke?"  And it looks like Fanta Orange, their sister beverage benefited from the same group of talented writers with this bubblegum tune similar to The Archies "Sugar, Sugar" and Tommy Roe's "Dizzy."  Watching a group of hipsters paint their Love Bug in the hot sun, aren't you glad that they were able to quench their thirst with some refreshing orange soda?
3. Continental Airlines … we'll really move our tail for you!
With airlines cutting costs and passengers crammed in tighter than a sardine can, you're lucky these days if you can get one free soda in a small plastic cup.  So imagine coach passengers getting a slice of juicy roast beef with a glass of sparkling wine as you take off to your destination!
4. Instant Quaker Oatmeal gets a celebrity endorsement.
If you're Quaker Oats and want to reach every housewife in Middle America during the 1960s, who better than Elizabeth Montgomery and Dick York to help sell your oatmeal?  The two stars of the 60s hit show Bewitched prove that making instant oatmeal is as easy as twitching your nose.
5.  Canada Dry Ginger Ale … one gulp if for thirst, the other gulps are for kicks!
If you're ever shooting pool, hosting a bonfire or partying on a yacht with some scantily clad females, take it to the next step by offering that special lady some champagne – the champagne of ginger ales that is!

Loading ...