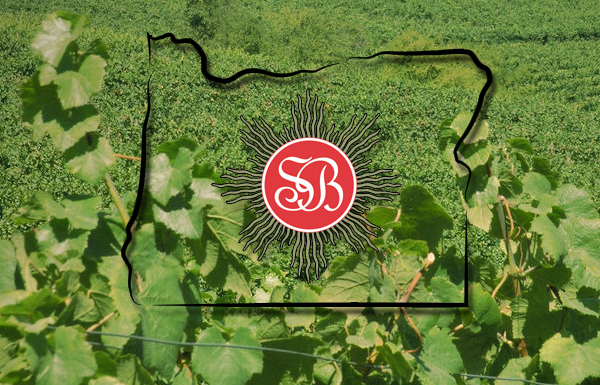 Photo credit: www.sokolblosser.com
Enjoyed last week a dinner in Vancouver with my long time friend Alex Sokol Blosser co-president with his sister Alison at Sokol Blosser Winery (www.sokolblosser.com) and since July 1, 2013 the winemaker. Also the date they opened a brand new Tasting Room cleverly wood designed by Allied Works to connect with the land among the tall old oak trees with spectacular views of Yamhill Valley. Their first pinot noir vines were planted in 1971 in the rich red Jory soils of the Dundee Hills in Oregon. Today they continue their "good to the earth" policy through sustainable practices and certified organic farming. We enjoyed Chef David Hawksworth's brilliant matches of chestnut agnolotti, kale, black truffle & parmesan with an acid balanced 2011 Dundee Hill pinot noir (coolest since 1971), followed by local duck breast, carrot puree, turnip, and brown butter duck jus paired with an earthy 2008 Estate & 2010 Goosepen Block. Interesting story told by Michael Kelly Brown their Director of Consumer Sales & Marketing about the single vineyard name from around 2001 involving a French sustainable practice of bringing in geese to prune by eating the vine leaves but they would not do so and ended up in the freezer and in goose down pillows but the name Goosepen without fences remains.
Pleased I recommended Alex as the knowledgeable Oregon wine consultant for our annual IWFS Vintage Chart. Interesting to see the top 7/7 marks for vintages 2012, 2008, 2005, and 1999. Alex states "Oregon does acid best and that the cooler years provide the structure for the fruit (like big bones in the human body to support more muscle) otherwise the wine may show too flashy". I enjoyed reminiscing about all their vintages with Alex & Michael from the first difficult one in 1977, 78 pretty good, 83, 85, 89 all lovely (and 87 OK) and they have a few bottles left of 83 & 85 at around $250/bottle, 90, 93 & warm 94 (even ripened 4 acres of cabernet sauvignon before last harvests of it in 95/96), 02, 04 good ones while 05, 06, 07 more difficult harvest conditions, 07 & 11 lovely acid balance for ageing while 08 & 12 fuller riper richer conditions. Scores of 6/7 on the IWFS Vintage Chart to 2010, 2007, 2004, 2002, 1998, and 1993.
Oregon has made good progress in spotlighting world class pinot noir. Their 3 day International Pinot Noir Celebration (www.ipnc.org) now the 28th annual on July 25-27, 2014 at Linfield College in McMinnville is still a hot ticket. We enjoyed at our September 2012 IWFS Festival the delicious 2007 Domaine Serene Evanstad Reserve. I like how the Oregon terroir is continuing to be defined. Veronique Drouhin-Boss head winemaker at both Domaine Drouhin in Oregon's Dundee Hills and Maison Joseph Drouhin in Burgundy knows well the differences between some of those limestone soils of Burgundy and the mostly volcanic soils of Oregon. Remember some comments I believe attributed to her in Forbes on terroir that Dundee Hills shows more elegance and charm like a Chambolle-Musigny while Eola-Amity Hills is bigger structured a little like Gevrey-Chambertin but both uniquely Oregon. Encouraging recent outside investment continues with Jackson Family purchasing Solena Estate and Maison Louis Jadot buying the 20 acre Resonance Vineyard planted in 1981 with the Yamhill-Carlton AVA of Willamette Valley. Watch out!
What do you think about the quality of Oregon pinot noir? What is your fav Oregon pinot noir vintage?

Loading ...